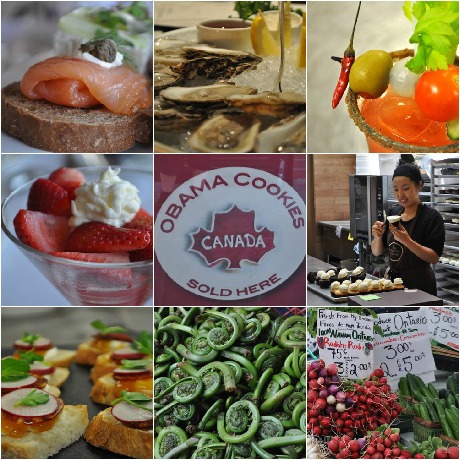 Getting a sense of the signature "flavor" of a region is a daunting task anywhere you go, but that process is helped along tremendously if you cheat. By which I mean asking the local food bloggers! While I could easily tell you *my* favorite food experiences in Canada's capital (**cough**beavertails**cough**), I'd rather give you a list of the absolute best of the best from those in the know. A special thanks to my new foodie friends in the frozen North for helping me with this post!
You have to go to Kichesippi Beer Co. – Katy Watts, Sheltered Girl Meets World
"Beer lover, wannabe world traveler, slave to work" Katy sent me this tip for the best brew in town, and what sent me over the edge from "like" to a Liz Lemon-like "I want to go there" is that it's a family owned business, and the brewers are passionate about creating beers that are unique to the Ottawa community. Katy isn't the only one impressed – I got several rave reviews of the place while I was asking around in Ottawa!
Honorable Mention: Brothers Beer Bistro, where just about everything on the menu has beer in it.
You have to go to Atelier – Claire, aka. GadgetGirl, resident wine connoisseur at FoodiePrints
Leave it to a wine blogger to know where to find the classiest meal in town, which – with stiff competition – has to be Atelier. Get this: it manages to pull off crazy molecular gastronomy techniques that bring you flavors in unexpected pops, bursts and fizzes – without feeling pretentious. If it were just about the fizzyness of edibles-not-meant-to-fizz, I'd be tempted to brush it off as overpriced and under-fed (portions are tiny). But, Atelier takes Ottawa's nearly universal commitment to local, seasonal produce and runs with it, cooking up real Ottawa flavor – with more than a few twists.
Honorable Mention: Odile, for rustic French food on the other side of the river in Hull.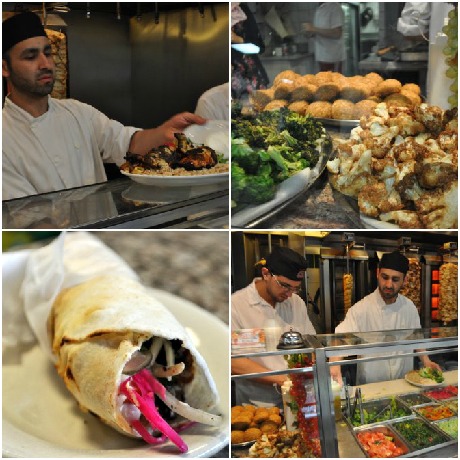 You have to go to Shawarma Palace and Murray Street – Don and Jenn, FoodiePrints
When I heard Ottawa had shawarma, I asked a half dozen people where to find the good stuff. I haven't had shawarma (in a pita with extra garlic sauce please) since one late night in London after being dragged out clubbing. I needed earplugs for the house music. The dancing was panic-inducing (I hate club-dancing). My borrowed top was way too tight. But I count that evening as one of the best nights of my life because my roommie introduced me to shawarma. And it was amazing. In the past 7 years, I've never found its equal. Until Ottawa.
"Oh, you should go to shawarma palace!" Jenn told me when we met at Spin Kitchen & Bar in downtown Ottawa. Marc, of 30 Day Adventures, kindly drove me through the 1-way street madness of Ottawa-in-summer-under-construction, and I landed in paradise. Not only was the shawarma every bit as good as I remembered from London, the people working there were super welcoming. 464 Rideau St. Ottawa
Jenn, Don, and several perfect strangers recommended Murray Street to me – which worked out well since I already had plans to go! Known for "head to hoof" cuisine, my dining experience reflected that reputation. I started with head cheese and ended with the "Fiddler on the Hoof": smoked pigs feet, bacon, fiddlehead ferns, topped with a poached egg. Their take on gourmet poutine is just as good as it looks (and I'll be making my own spin on poutine next week!). As with all of Ottawa's top spot, the emphasis is on locally grown, seasonal produce – and pigs.
You have to try the burger at Chez Lucien – Good-looking Guy Working The Beavertail Stand (yum)
If I had only heard it from the Beavertail guy, I might not have given this recommendation much credibility – but I heard it from everyone. If you're a local Ottawite, you've eaten at Chez Lucien, and you probably ordered the burger. For outsiders, the trick is finding the place. "Don't look for a sign that says 'Chez Lucien' – you won't find it. Look for a neon sign that says 'Bar,'" the Beavertail guy tells me. Apparently the secret is in the beef, Dan O'Brien's beef, specifically, aka. "the best beef in Ottawa." Delicious, affordable, and quirky (the free juke box has a wildly eclectic mix of local bands, classic rock, country and blues), finding this burger could be the key to finding the heart and soul of Byward Market. 137 Murray St, Ottawa
My 2 cents? Shawarma, Pigs Feet, and Beavertails are the three places I'd like to go again.
Here's how to join the WanderFood Wednesday Food & Travel Link Party:
Post a food-related post on your blog.
Include a link to WanderFood Wednesday in your post, like "Part of the WanderFood Wednesday Recipe Swap."
Add your blog name and post title to the "Mr. Linky" form below, with a link directly to your post. That's it!