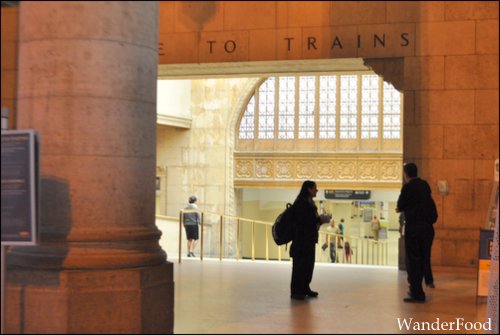 My culinary exploration of Eastern Canada did not begin on an auspicious note. I guess it's been a while since I flew domestic, but I didn't know a five hour flight from Los Angeles to Washington D.C. wouldn't come with a snack. Not even a bag of pretzels. I passed up United airlines' $7.49 "snack box", and the $6 Budweiser, and even the anemic $9.49 chicken caesar salad, preferring instead to embrace the word "hangry" rather than give another dime to the airline.
"Hangry" if you're wondering, is the perfect marriage of "hungry" and "angry," which only increased when the flight attendant refused to let me squeeze past his overpriced food cart to use the bathroom, referring to me as "you people." As in "You people think you can just do anything you want to." Like use the bathroom? Yeah, I guess I am. Really folks, his response was that out of the blue. I don't go around provoking flight attendants with willy-nilly bathroom requests if I can help it.
Fortunately, things picked up when I touched down in Toronto. And they really gained speed on the Via Rail train trip from Toronto to Ottawa. Business class = win. A 4-course win, with an option of chicken curry or fish with mango salsa, specifically.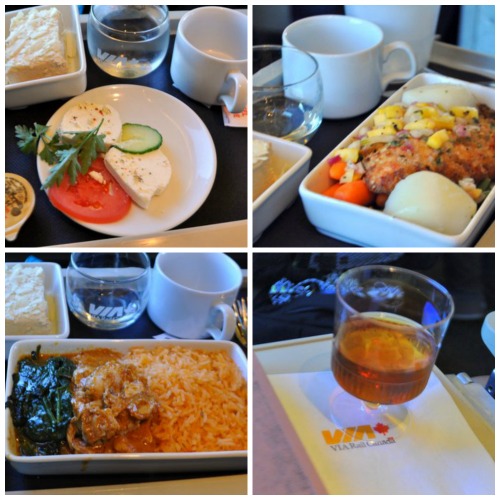 Train food and plane food are both frequently maligned – and rightly so. They're usually terrible (though British Airways makes a mean curry, with just enough kick). Via Rail surprised the pants off of me with their local Niagara wines, and you could have knocked me over with a feather after my glass of delicious brandy (and not just because I was tipsy). California's Amtrak should take notes on how to work with local wineries – I'm sure a lot more of us would make use of public transportation down here!
And then there was the lovely fellow in charge of providing us with our dinners and drinks. My blogger companions and I all sort of fell in love with him. And – he reads palms! Really, that should be featured on the Via Rail brochure.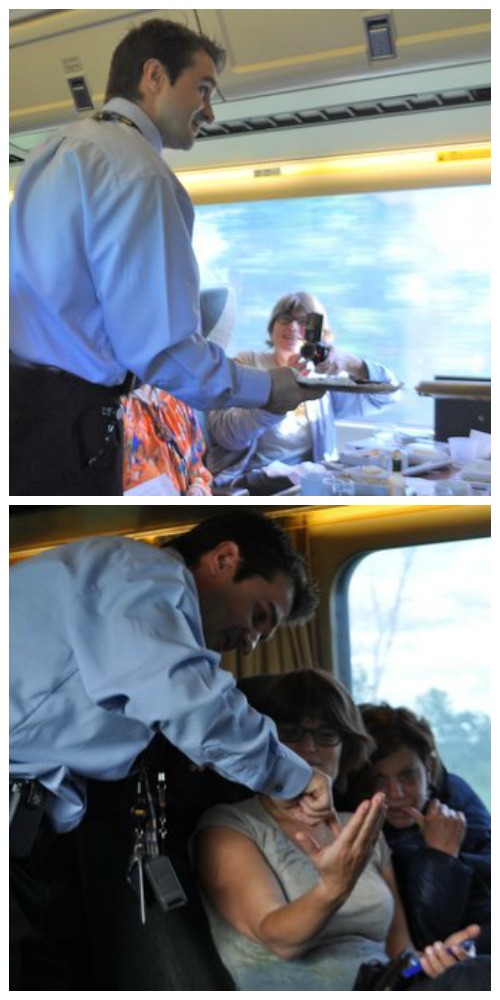 Now that's service.
What was your best meal on the go? Plane? Train? Cruise? I'd love to know where you found a tasty treat when you least expected it. And no, I'm not talking about handsome, palm-reading servers. 😉
Here's how to join the WanderFood Wednesday Food & Travel Link Party:
Post a food-related post on your blog.
Include a link to WanderFood Wednesday in your post, like "Part of the WanderFood Wednesday Recipe Swap."
Add your blog name and post title to the "Mr. Linky" form below, with a link directly to your post. That's it!