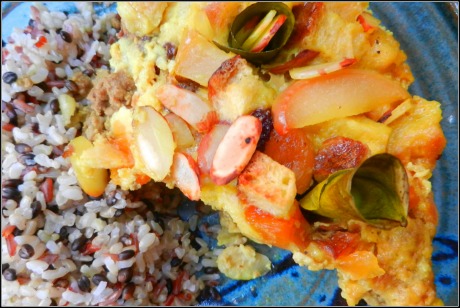 What fascinates me most about the food I found in Africa was what it revealed about the confluence of cultures that have crashed together on the continent. Every food is "fusion," and Bobotie is perhaps the best example. Its origins trace back to the Dutch East Indies (ie. Indonesia), and the idea of spicing minced meat and topping it with an egg mixture came over with the Dutch East India colonists. The earliest record of the recipe has a date of 1609!
This Bobotie recipe is off-the-hook, combining ingredients you'd never think to put together. Lamb, orange leaves, almonds, egg, bread, raisins, dried apricots, and curry powder, topped with mango chutney, combine to create a sweet, savory, and slightly gamy blend that is unforgettable. And if you really want to go crazy – do like some South Africans do, and roll it in a pancake. I know – right?
Bobotie
Ingredients
1 onion, chopped fine
4 cloves garlic, chopped fine
1 Tb Curry Powder and 1 Tsp Turmeric
2 slices of white bread, cut into cubes
4 eggs
1/4th cup milk
zest of 1 lemon, and a squeeze of lemon juice
1 apple, chopped into cubes
raisins or sultanas to taste
apricots, chopped
slivered almonds
6-8 orange or bay leaves
2 pounds ground lamb
*Optional: I used 1/2 cube of mutton boullion to enhance the lamb flavor, and many recipes also use tomato paste in the lamb mixture.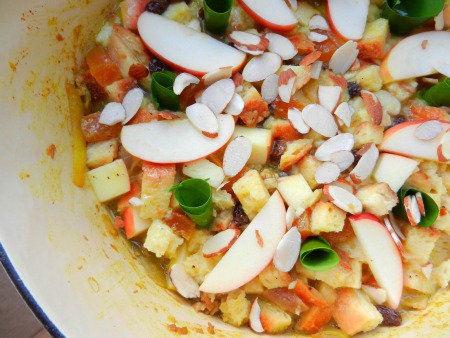 Instructions
Preheat oven to 325 F.
In a large pot, saute the onion and garlic until the onion begins to caramelize.
Add the curry powder and turmeric, and toast until fragrant.
Add the lamb. Stir until combined, then pat down mixture until smooth on the top.
In another bowl, whisk the eggs, milk, lemon zest and lemon juice. Then add bread cubes, raisins, apricots, almonds and apple.
Pour egg mixture over the lamb mixture in the pot, then roll the orange leaves and place them at regular intervals. Top with more almonds.
Bake covered for 1 1/4 hours. Then broil to brown the top for 2 minutes.
Serve with mango chutney.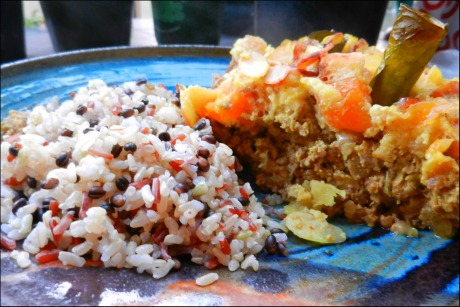 Here's how to join the WanderFood Wednesday Food & Travel Link Party:
Post a recipe on your blog.
Include a link to WanderFood Wednesday in your post, like "Part of the WanderFood Wednesday Recipe Swap."
Add your blog name and post title to the "Mr. Linky" form below, with a link directly to your post. That's it!