"From Bantu-speaking farmers and fishers to Arabic traders, Goan merchants and adventuring Europeans, Mozambique has long been a crossroads of cultures." – Lonely Planet Guide, Mozambique
Rosa, our friends' "empregada" (housemaid), shyly responds to my barrage of questions on Mozambican eating habits with a smile and many apologies about her broken English. At our friends' suggestion, I brought her half of a carry-on suitcase of clothes I've out-grown, and she seems very pleased with the offering. At 36, she has three teenage children, and she says her daughter will definitely be able to use them. I almost feel like I'm bartering for her culinary knowledge, though I know she'd sit down to speak with me even without the short stack of skirts and shirts as ice-breakers.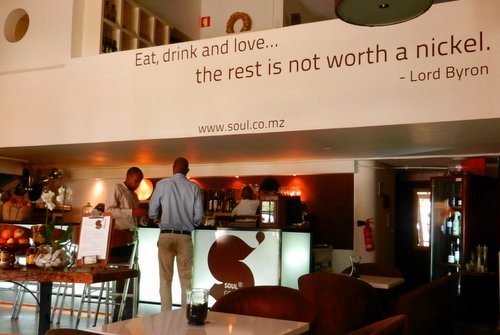 Maputo is a cosmopolitan city in many respects, especially when it comes to food. KFC is readily available and popular, hamburgers and pizza are everywhere, and European fare is easy to find. There are also fine-dining Portuguese restaurants, like Taverna (dinner) and Soul Cafe (breakfast and lunch), and seafood joints like Sagres Shellfish Restaurant, also with heavy Portuguese influences. At the Central Market, they have tomatoes, bell peppers, mangoes, papayas, limes and bananas, and Indian spices. In fact, the only thing I couldn't find on my own was authentic Mozambican food.
"What food do you make for your family?"
This is the question I really want to know the answer to. I need to wrap my mind around the flavor profile of this new place and I have no idea where to start. None of the vegetables I've seen for sale are even native to the area – how can I find a distinctly Mozambican dish? I wonder to myself if maybe my idea of "authenticity" needs to be chucked out the window as a "first-world problem."
When Rosa responds with two words I've never heard before, a delighted grin spreads across my face. "Matapa" and "Couve." I don't need exact measurements from Rosa, just a rough idea of ingredients and the order of operations. Even though she and I can't always find the correct English translations for every word, we speak the common language of the kitchen enough for me to understand the process.
She says Matapa is made with cassava leaves. "Do you have cassava?" she asks. "No, we don't, but I'll figure something out," I promise her. She tells me with words and hand gestures that the cassava leaves are combined with a mash of raw peanut and coconut, with variations like adding cumin and coriander, tomatoes, onions and prawns. Couve is a simple saute of greens (collard greens work fine with either of these recipes) with olive oil, coconut milk and peanut flour, garlic, salt and pepper. And of course, there is "Piri-Piri Chicken" – a chicken rubbed with hot ground peppers. She uses a lot of Indian spices and tells me "the flavors come from all over." I smile, my eyes bright with excitement. Fusion. I understand this. When cultures crash together as they have so many times here on Africa's East coast, the results are thrilling. Suddenly, my inability to find "Mozambican food" makes sense – its identity is defined by inclusion.
Matapa
2 bunches Collard Greens (cassava if you can find them)
1 Lb raw peanuts
28 oz Unsweetened Coconut milk
2 cloves garlic
1 chopped tomato
1/2 onion, sliced
1 Lb shrimp, peeled but with tails on
Boil the shrimp in a pot of water until just pink. Reserve 4 cups of the shrimp water, set shrimp aside in the refrigerator.
Chop greens into small pieces (you can also grind or food-process, but I like my recipes chunky).
In another pot, bring 2 cups of the shrimp water to a boil and put in the greens with 1 can coconut milk. Simmer for 30 minutes.
Grind peanuts in a food processor until they resemble powder, but aren't blended into peanut butter. Add them to a sauce pan with the other 2 cups of shrimp water and the other can of coconut water. Bring to a boil, then pour over the greens. Add garlic, tomato and onion, and salt to taste. Simmer for 1 hour.
Shortly before serving, add the shrimp back in and cook until hot.
Serve over white rice.
Don't forget to join the link party – it's WanderFood Wednesday after all!