Portland, Oregon is my personal culinary heaven. Not only did I find some of the world's best donuts, but I discovered a pocket of New Orleans cuisine and better Italian food than I found in all of Italy (not joking!). Granted, I haven't eaten at every restaurant in Portland (yet), but when I return (and I will), these are the 3 Places I Have to Go: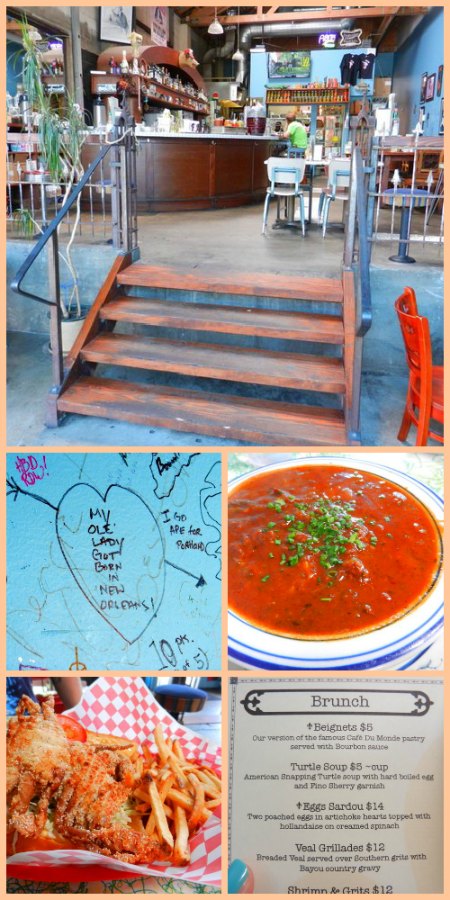 3. EAT: An Oyster Bar
How 'come nobody told me that I could find incredible Creole cooking in Portland, Oregon? Someone's been holding out on me. When I stepped in EAT for breakfast, I was lured with the promise of oyster shooters – which I found. But I also found an entree I had hitherto only heard about from my Grandfather: Turtle Soup.
The story of Turtle Soup begins with my Great Grandfather, who was a French chef at the famous Drake hotel in Chicago in the '30s. When my grandfather came home from boarding school every summer, he would as his dad to make turtle soup – but first, he had to go out and catch the turtles! I'll spare you the gory details that my grandfather revels in – something to do with how you get the turtle out of the shell using a pitchfork – but I've always been curious to try the soup he loved. Who knew I'd have to travel to the Pacific Northwest? Oh, and soft-shelled crab? Also amazing. The oyster shooters… not so much. Yech. (First-timer, I'm pretty sure they're an acquired taste)
3808 N Williams Ave #122  Portland, OR 97227  (503) 281-1222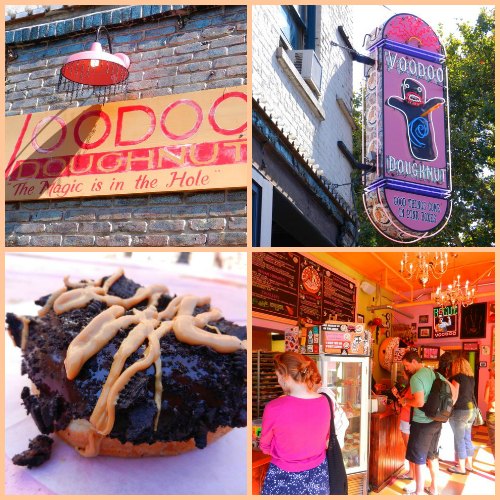 2. Voodoo Doughnuts
That chocolate-smothered, oreo-basted, peanut-butter-drizzled hunk of burning love is The Old Dirty Bastard – the most popular doughnut they sell. I waited in a line that stretched around the building for that Bastard and didn't regret it. Did passersby laugh at me taking pictures of my food? Yep, they sure did (jerks). But I wanted to remember this seminal moment in my Foodie life. You cannot miss Voodoo Doughnuts.
22 SW 3rd Ave Portland (503) 241-4704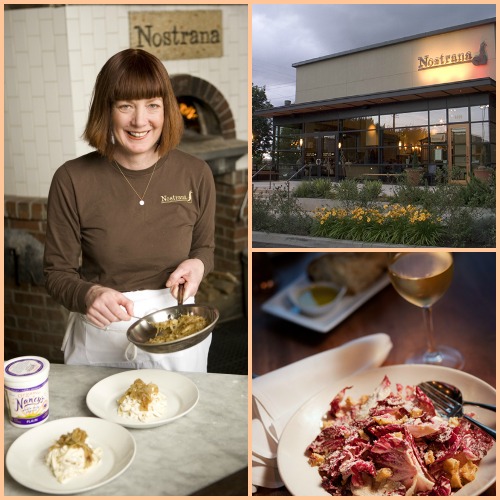 1. Nostrana
True confession: I couch-surfed in Portland. Sorry Ma' – but it was perfectly safe. Part of couch-surfing is that in exchange for a free place to spend the night, you treat your host to dinner. And I had the perfect place. Nostrana: one of the fanciest and best-rated Italian restaurants in the city. I found my blonde Texan couch-owner at the bar, and after sitting down, she and I quickly bonded over the Burrata: melted cheese on a bed of arugula, drizzled with olive oil and citrus, on bruschetta-like crusty bread.
This delicacy was quickly followed by slightly spicy tomato soup (just the thing for a chilly Portland night), and when the Breasola came around, we learned even more about each other: neither of us was vegetarian! Let me tell you about Breasola. It's like a salami met a filet mignon, spiced with nutmeg, garlic, salt and black pepper, with an orange pepper sauce on top that brings out its sweetness. I figured I was well on my way to being the Best Couch-Surfing Guest Ever, and we hadn't even had the main course! I think she won with the spinach and egg fettuccini with ham and cheese sauce, but my crisp slab of salmon with heirloom tomatoes and sweet yellow corn was also incredibly good.
Dessert arrived with a tasting (more like master class) of Marsalas, an incredible though underrated dessert wine that tastes similar to sherry, but better. I can't think of a better evening than meeting someone new, enjoying a world-class dinner, and nerding out with the waiter over wine (and how we wish sherry would make a comeback). And, I can't wait to return.
1401 SE Morrison St  Portland, OR 97214 (503) 234-2427
Did I miss a spot? Tell me about it in the comments!