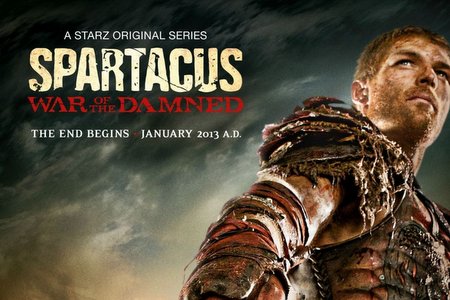 I'd like to say I've been too busy catching up on Season 1 of Spartacus: Blood and Sand to write this week's WanderFood Wednesday, but while I have indeed been up to my mental elbows in gladiator gore, the truth is that this guest post was too good to spend on a lesser day of the week. And really, don't we all need a cupcake that embodies ferocious warrior spirit on a Wednesday? I think we do.
Guest Post from Angela Hilbert of WanderLit
One of the reasons I read so much world literature and history is because I like to travel the world unencumbered by the space-time continuum. If that sounds like a geek thing to say… well… guilty as charged. I not only get swept around the world in my books, but around the imaginations of brilliant fantasy writers as well. So When I learned the fictional Starz Series "Spartacus" was entering is final season (I'm a big fan of its writer, Steven DeKnight) I took the opportunity to download Barry Strauss' The Spartacus War on Audible to represent Italy on the WanderLit World Tour.
Then I turned it up loud while I made cupcakes fit for Rome's Third Servile War!
I started with the dogs of war. Though my cupcakes always seem to look like a first-grader made them, I am proud of my wolves. Here is how it's done.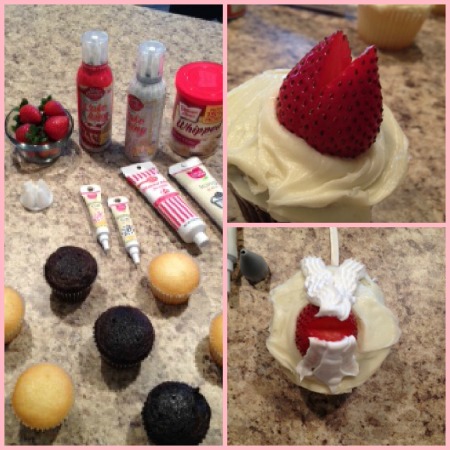 This one looks like it could be the wolf that nursed Romulus and Remus.
Then I tried a few Gladiators: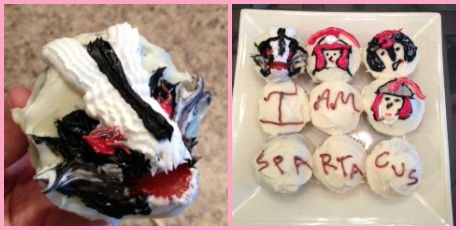 How about you? Do you have any themed treats or recepies from the fantasy lands you've traveled to? I've seen everything from
The Star Trek Cookbook
to
The Unofficial Game of Thrones Cookbook: From Direwolf Ale to Auroch Stew – More Than 150 Recipes from Westeros and Beyond
.
Spartacus: War of the Damned poster courtesy of Wikipedia
Don't forget to share your favorite treats in the Link Party below!



Directions for Using LinkyTools
Click on "Click Here To Enter" highlighted in blue above. That will take you to a page that asks for:
1. Link to… [enter the link to your website or blog here]
2. Caption or Title…[enter a short photo title here, it will be seen below your picture]
3. Your email & Your Name…[who you are – we don't share your info withANYONE]
4. Two boxes – one that says "Let me crop my own image" and one that crops it for you. Your choice.
Then you choose from where you want to upload your image: From Web (site), From File (your computer), Generic (don't choose this).
Once you've uploaded your image, you can crop it (if that's the option you chose), and it will take you to a screen with a link back to my blog so you can see your work!