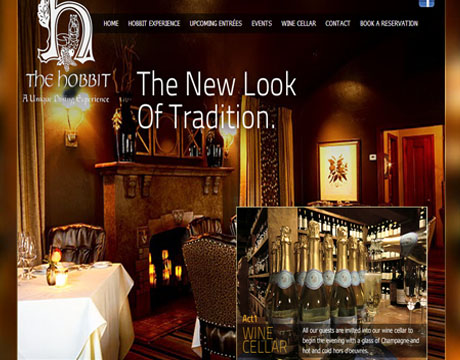 I'm announcing a new series this week, one I've been thinking of for a long time – "Three Places You Have to Go."
The idea is that we all have our list of restaurants and eating experiences we recommend to friends when they come into town, and I want to start compiling them. I know my three favorite places in Santa Barbara, Rome, Kauai, and London for starters. And I have friends in foodie meccas like Tokyo, San Francisco, and New York. In fact, our own Beth Whitman is one of the best restaurant recommenders I know, considering she leads food tours to Santa Fe and Seattle (someday, I'm hoping Bangkok makes the list).
I can't think of a more fitting way to start this off than the giant list by OpenTable, as reported on RestaurantNews.com. The list was generated using 5 million user reviews over the course of last year.
"California restaurants earned 24 spots on the list, followed by New York with 18 winners. Virginia boasts six winning restaurants, trailed by Arizona, Massachusetts, and Pennsylvania with four honorees apiece. North Carolina, Rhode Island, Texas, Washington, and Washington, D.C. all have three winning restaurants, while Colorado, Florida, Georgia, Illinois, Maryland, Minnesota, Missouri, and Ohio have two each. Connecticut earned a single spot, as did Hawaii, Kansas, Nevada, New Jersey, New Mexico, Oregon, South Carolina, and Tennessee. Restaurants serving American fare dominated the list; French cuisine is also strongly represented."
Here are the top 20 Diners' Choice Award Winners for the Top 100 Best Restaurants in the U.S.
Acquerello – San Francisco, California
Addison at The Grand Del Mar – San Diego, California
Altura – Seattle, Washington
Andrea at Pelican Hill – Newport Coast, California
Annisa – New York, New York
Artisanal Restaurant – Banner Elk, North Carolina
The Ashby Inn – Paris, Virginia
Atelier Crenn – San Francisco, California
Auberge du Soleil – Rutherford, California
Bacchanalia – Atlanta, Georgia
The Belvedere – Beverly Hills, California
Bibou – Philadelphia, Pennsylvania
Binkley's Restaurant – Cave Creek, Arizona
Bistro L'Hermitage – Woodbridge, Virginia
Blue Hill at Stone Barns – Pocantico Hills, New York
Bouchard Restaurant and Inn – Newport, Rhode Island
Bouley – New York, New York
Café Provence – Prairie Village, Kansas
Café Renaissance – Vienna, Virginia
Canlis – Seattle, Washington
I've been to one of the restaurants on the list – The Hobbit – in Orange County, and I have to say, if that's indicative of the quality of restaurants on this list: Go. Go now. Make a reservation at the closest one to you, and go. The wine cellar of The Hobbit was incredibly well thought out and they had a resident sommelier who not only answered questions, she got into conversations with the diners. The food was delicious, rich, and very French, but it was the service and the unusual homey-formal-last-century atmosphere that I remember most. It was certainly a unique and memorable experience.
Will The Hobbit make my list of "Three Places You Have to Go in Orange County"? Maybe… but I can think of restaurants around here I like even more. Stay tuned.
Photo from The Hobbit restaurant's website.