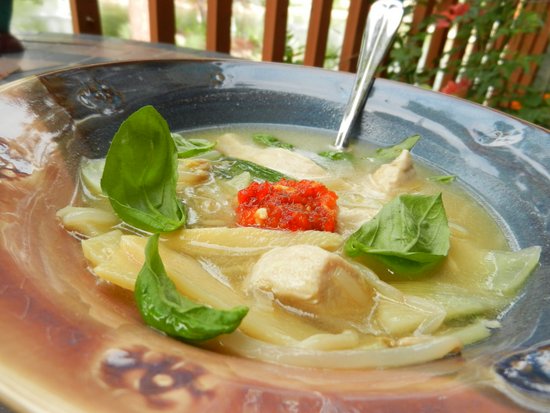 Last week I felt like I was catching a cold. Tired, scratchy throat, sniffles. So I made it my mission this weekend to cure myself with Vietnamese food. Pho Ga – the chicken noodle soup of Vietnam – turned out to be the perfect antidote, especially when topped with a spoonful of garlic chili sauce. I feel GREAT today!
I started out with the basic recipe, which I do not at all claim to be authentic, but it's close. I switched it up by eliminating the rice noodles in favor of Enokitake mushrooms, which are very noodle-like without the carbs:
Ingredients
1 whole onion, chopped
3-inch chunk of ginger, unpeeled and coarsely chopped
2 Tb whole coriander seeds
4 whole cloves
2 whole star anise
1 lb of chicken breast, chopped into large chunks
2 Tb sugar (to taste)
3 Tb fish sauce (to taste)
(No cilantro, since the husband thinks it tastes like soap – sigh)
1 32 oz box of chicken broth
Enokitake mushrooms (or rice noodles)
Bean sprouts
Bamboo shoots
Thai basil
Fresh cut limes
Chili-garlic or Sriracha hot sauce
Sliced chili (optional)
Directions
In a large stock pot or dutch oven, start by sauteing the onion and ginger. Add the spices and stir until fragrant. Then add the chicken, sugar, fish sauce, and chicken broth.
Let simmer for 45 minutes.
Scoop the chicken out of the broth and set aside for now.
Strain the broth into a bowl, and discard the solids (ie. onion, spices).
In the now empty pot, lightly saute the Enokitake mushrooms, bean sprouts, and bamboo shoots.
Ladel the broth into soup bowls with the chicken, enokitake, bean sprouts and bamboo shoots, and then pile on the accompaniments: Thai basil, a squeeze of lime, chili sauce, slices of chili pepper.
Enjoy with kleenex nearby, because this will clear your sinuses!