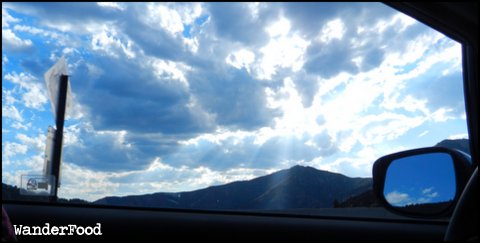 Somewhere in the forest of pine trees, between the green and gold mountains of California and the rushing Oregon rivers, Highway 5 becomes "Cascade Wonderland Highway." It deserves its name, because once you fly by the town of Weed, you cross the Rogue River and drive through the Riddle mountains. There's even a dragon, off to the right somewhere. Blink, and you'll miss it.
Toto, I don't think we're in California anymore. I was thrilled.
You'd think that a 12 hour drive would make me less thrilled, but no. Oregon is awesome (except for that whole You Cannot Pump Your Own Gas rule, which makes me deeply uncomfortable).
On one side, you have the West, straight up. Diners dishing out biscuits and gravy to craggy old cowboys, and a culture that acknowledges the existence of health food, then chooses to ignore it. On the other side, you have the culinary explosion that is Portland, where the waiter really does know which farm your chicken dinner came (the first time this happened, I was so excited to find out it wasn't just a Portlandia skit!).
Portland manages to contain both sides of this dual identity, which prevents it from becoming all gluten-free vegan yoginis, or all bearded craft beer brewers, or all wine sniffing gourmands. Case in point: The Original Dinerant. It's literally a cross between a retro diner and restaurant, and its breakfast menu reflects the comfort food of pioneer Oregon blended with the innovation of modern Portland. Take the Elvis Sighting, for example: hearty French toast and bacon, with banana mousse and peanut butter sauce. Or, my favorite, Fruit Loop Pancakes served with seasonal syrup, with an optional fried chicken on top (Oh yes I DID put a bird on it).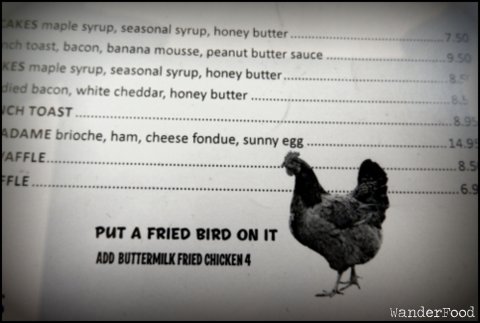 Unlike many other cities in which Yuppies, Hippies, Hipsters, and Foodies can be observed glaring at each other from across dining tables, forks poised to maim, Portland's dual identities seem to live peaceably side by side. Voodoo Donuts versus the clean, fresh, locally caught oysters at Southpark Seafood and Grill. Plenty of room for both.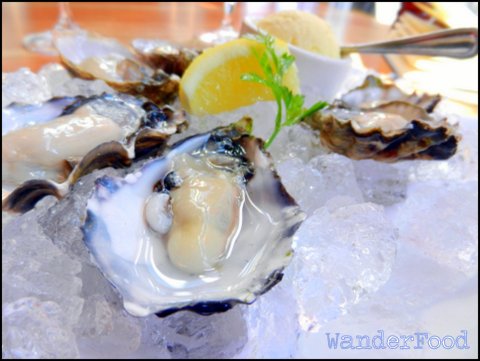 In fact, Southpark Seafood and Grill is a perfect example of the other sideof the spectrum. The restaurant was among the forerunners of the sustainable seafood movement, and has expanded the earth-saving to supporting organic farmers (my salad came from the Singing Pig Farm), composting food waste, recycling cooking oil, and using straws made out of corn. Something to think about while you're sipping your 9th St. Manhattan with local fig, spiced bourbon, and a splash of port.
This other side of Portland is full of surprises – like serving house-made lemon and sea-salt gelato with oysters that are arranged around the plate in order of the location in which they were collected. The waitress swore to me that you can taste the difference between Cortes Island, Shigoku oysters from Samish, and Netarts Bay. My palate is not nearly so well developed, but the gelato was outstanding (and their dessert caramel gelato was better than any I've had in Italy). Of course, you can order all of this paired with a flight of local Willamette Valley wines.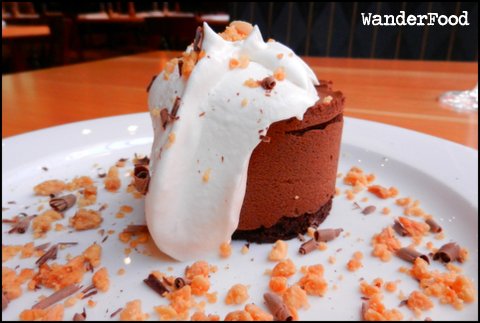 For a good time in Portland – especially if you've watched Portlandia – when your waitress brings you a dessert of chocolate mousse cake filled with raspberries, go ahead and ask her which farm the raspberries came from. In any other place in America, that would be a mean-hearted thing to do. The waitress would never know. In Portland – the response comes quick and chipper: Patrick's Berries!
Portland is a Wonderland.
For more information on where to go and what to eat in Portland, check out TravelPortland.com.
Have you been to a place with dual culinary identities? Tell me about it in the comments, and don't forget to join the link festival that is WanderFood Wednesday!
If you're new, here's how to join:
Post a food photo or story on your blog.
Include a link to WanderFood Wednesday in your post
Add your blog name and post title to the "Mr. Linky" form below, with a link directly to your post. That's it!
[mrlinky owner=wanderfood postid=03Oct2012 meme=2888]