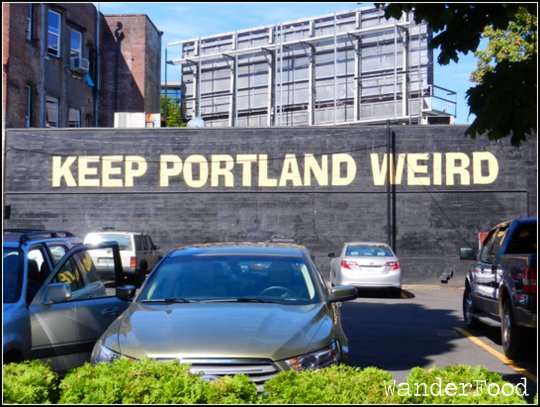 I took a roadtrip this week with the dating documentary Fifty Dates in Fifty States, hitching a ride from San Francisco to Portland with the fabulous Alicia Ostarello. My mission, other than to see Alicia off on her first of fifty dates, was to explore the city I've heard so much about. Heard about, mainly, from Portlandia.
I know it's dangerous to base your concept of a place on a TV show. I live in "The OC" after all, an immediately recognizable location for thousands of Europeans (I've never seen it). Portland's claim to fame is the indie series that has made its 90's era quirks of thrift-store plaids, tattoos, and DIY artistry into attractions as intriguing as Voodoo Donuts.
And I wanted to see if it was true. Is Portland really Portlandia?
I was embarrassed to ask. As I sat reading the menu at The Original Dinerant, which blatantly invites you to "put a bird on it" (a reference from one of Portlandia's funniest sketches, a commentary on the ubiquity of birds as fashion statements), I explained to my Oregon-born breakfast buddy that everything I knew about Portland, I learned from Portlandia. I expected him to shake his head and immediately count off the inaccuracies of the show. Instead, he replied "Yeah, that's pretty much it. They got us."
Our waitress took our orders, speaking through deep red lips while rocking a frock direct from Buffalo Exchange. Slightly giddy, I looked up and said "I'd like the fruitloop pancakes, please. With a bird on it."
Hey, when in Portlandia…
Join in the Link Exchange below this week – and then leave a comment HERE saying you did to be entered into the WanderFood Street Food book giveaway! Look on that page for even more easy ways to win, like Following me on Twitter and Facebook (just be sure to leave comments saying you did!).
If you're new, here's how to join:
Post a food photo or story on your blog.
Include a link to WanderFood Wednesday in your post
Add your blog name and post title to the "Mr. Linky" form below, with a link directly to your post. That's it!
[mrlinky owner=wanderfood postid=19Sep2012 meme=2888]