Late night schwarma on the rain-wet streets of London after hours of clubbing; Chai in a paper cup on an overnight train from Delhi to Varanasi; Gelato on my first, steamy hot, day in Venice. The street foods I've sampled across the world are more vivid in my memory than anything I've tried in a restaurant.  It's authentic in a way that restaurant food rarely is, because these recipes haven't been developed by French-trained professionals. They've come straight from the people, the culture, and the most readily available materials.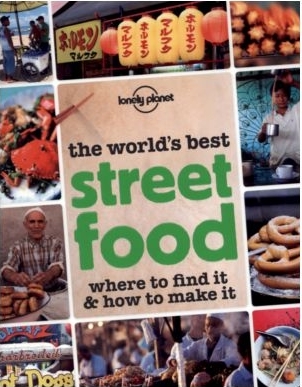 Lonely Planet's "The World's Best Street Food – Where to Find it & How to Make it" is a recipe-packed ode to what we love about street food – the sense of adventure and exploration. The thrill of trying local food without the filter of a "tourist menu" (Oh how I've learned to hate tourist menus!).
Flipping through the stunning photos, it's the breadth of recipes that make my jaw drop. Almost every corner of the earth is accounted for – Poland, India, Vietnam, Jamaica, Canada. The recipes are suited to home kitchens, but sometimes require an expedition or two to the local Indian grocery store and butcher shop. These are recipes that make you learn, that push you out of your house into your town, and into places you don't normally go.
Bo Bia – a Vietnamese spring roll with Chinese sausage, carrots, jicama and shrimp (with spicy peanut dipping sauce)
Sfiha – A Lebanese pastry filled with meat, mint, tahini, and yogurt, drizzled with pomegranate molasses.
Jerked Pork – A Jamaican recipe you can make on the grill, including a marinade of thyme, allspice, sugar, pepper, cinnamon, nutmeg, ginger, soy sauce, and orange juice.
Bliny – Russian steaming-hot filled pancakes that can go either sweet or savory.
Each recipe comes with a paragraph about the food culture it came from – which, as you know, is right up my alley. Get it? Street food – alley. Mkay, nevermind. BEST PART:
I'm giving away ONE COPY of Lonely Planet's Street Food!
Contest starts NOW with three ways to win:
1. Like WanderFood on Facebook (and leave a comment here saying you did)
2. Follow WanderFood on Twitter (and leave a comment here saying you did)
3. Take part in the WanderFood Wednesday Link-Love this week by writing a Street Food-related post on your blog, sharing it on WanderFood Wednesday (Sept. 19th) via the MisterLinky widget, and placing a link on your post to WanderFood Wednesday. (and leave a comment here saying you did)
Do all three, and you triple your odds of getting your hands on this fantastic book!
Approximate value of the prize is $20!
This contest closes at 11:59pm PST on Sunday, September 23rd 2012, and the lucky winner will be chosen using Random.org on September 24th 2012. If the winner does not respond within three days of being notified, a new winner will be selected. This contest is available to anyone world-wide – I will ship anywhere.