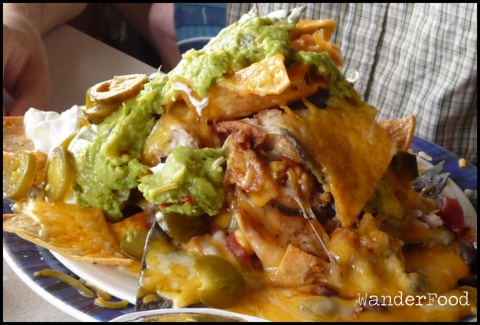 If I have corn chips in the house, I will try making nachos out of anything. In fact, my favorite nacho-fusion recipe was inspired by my friend's Indian-Mexican rice and beans dish. She flavors Basmati rice with cardamom pods, bayleaf, cloves, cinnamon, pepper corns and a Serrano chili pepper (though I use the more subtle jalapeno for my weak western taste buds), and mixes pinto beans with tomatoes, onion, chili powder, coriander, cumin, and another finely chopped Serrano chili pepper.
I'm telling you – you layer those rice and beans on corn chips and top with jack cheese, and it's the best plate of nachos you'll ever have in your life. Well, almost.
The top spot for The Best Nachos of My Life is taken by the Kalua Pork Nachos at Brennecke's Beach Broiler in Kauai. If you're unfamiliar with Kalua pork, forget the liquor – completely different – and think of tender, juicy pulled pork, slowly smoked in a pit dug in a Hawaiian beach or back yard. Since most of us don't possess a pork-pit, Brennecke's manager gave me the recipe to make this in a home oven.
Now, Hawaiian islanders are laid back, and the manager didn't have exact measurements. Fortunately, you don't need them, but I've done research to get ballpark figures as guidelines.
Brennecke's Kalua Pork Nachos
Makes 4-6 servings as an appetizer (but for me, it's dinner for 2)
2 pounds pork butt roast
1 ¼ tsp liquid smoke
1 Tb Hawaiian sea salt
1 can black beans, 15 oz drained
House-made Hawaiian plum BBQ sauce (not sold, but this recipe is close)
1 Cup of shredded cheddar, jack, mozerella cheeses (or the 3-cheese blend in a bag works too)
Fresh made guacamole to top
Pickled sliced jalapeno peppers to top
The Pork
Preheat oven to 325 degrees. Rub your pork butt with the liquid smoke and sea salt and wrap in foil (Brennecke's uses tea leaves, but until I see those in Ralphs, foil it shall be). Seal the foil completely. Place in a roasting pan with water at the bottom.
Bake around 5 hours, or until the internal temperature reaches 145 degrees F (63 C).
Remove and let cool before shredding, and sprinkle the shredded meat with a dash more Hawaiian salt.
The Secret Ingredient: Plum BBQ Sauce
Besides the amazing pork, the secret to Brennecke's unforgettable flavor is the plum BBQ sauce layered in with the beans and chips. Plum and pork go together like you wouldn't believe, and Rachel Ray's recipe is easy to follow and has the right ingredients to achieve a Hawaiian flavor profile (five-spice powder, peeled ginger, hoisin sauce, ground coriander and grill seasoning, along with plums, lemon juice and sugar).
Assembly
Everyone layers their nachos differently, but I like to put a layer of chips down first, then pile on the beans, sauce, pork, cheese – and repeat, like you're making lasagna. Once you've put on the final layer of cheese, pop the whole plate under the broiler for a few seconds until the cheese is melted. I like to assemble my nachos in a pie plate just so I can pop it in the oven without fear. Then add the final touches of guacamole, sour cream, and pickled jalapeno.
Would it be a stretch to say that Brennecke's Kalua Pork Nachos reveal a piece of Kauai's modern culture? I don't think so. For better or worse, the islands are a blend of mainland and islander ways of being, with different values and cultures colliding daily. Whenever that occurs, the best you can hope for is that each side will adopt the best of what the other has to offer. In the case of nachos, at least, that ideal coexistence has been achieved.
Don't forget to visit Brennecke's the next time you're in Kauai – their Mai-Tais are great too!
Brennecke's Beach Broiler – 2100 Hoone Road Kauai, HI 96756 – (808) 742-7588
Tell me where you've had your favorite nachos (I'm always on the lookout for my new favorite spot!).