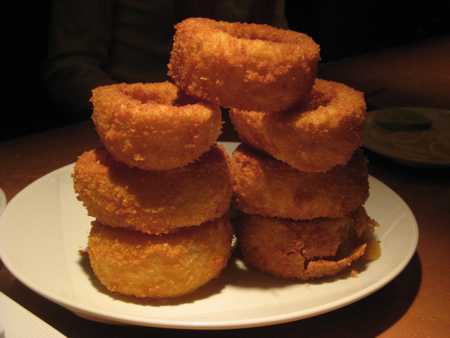 What are your favorite beach foods?
Onion rings and burgers? Wine and cheese? Fried noodles and skewers of fresh pineapple?
I sampled these onion ring beauties, not at the beach, but at Frank & Albert's Restaurant at the Arizona Biltmore Hotel in Phoenix.
But wouldn't they taste good after a day in the surf?
Please leave a comment about the best beach treats you've found.
And since it's WanderFood Wednesday, please share your own food discoveries. Here's how:
Post a food photo on your site.
Add a brief description about the photo and include a link to WanderFood Wednesday.
Add your blog name and post title to the "Mr. Linky" form below, with a link directly to your post (not to your main blog). That's it!
[mrlinky owner=wanderfood postid=03Jul2012 meme=2888]
If you go:
Frank & Albert's Restaurant is at the Arizona Biltmore Hotel, 2400 E. Missouri Avenue, Phoenix, Arizona, 602-381-7632.
Tasty Travels! And Happy Fourth of July!
Carolyn
Photo credits:
Onion rings photo © Carolyn B. Heller
Surfer photo © Alan Albert