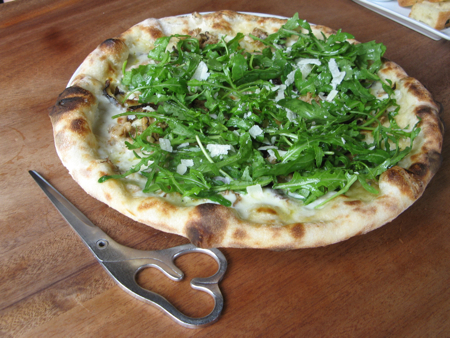 Wild mushrooms. Fresh peppery arugula. An herb-y pesto layer atop a perfectly chewy dough.
I don't usually get overly excited about pizza, but this vegetarian version, the "Funghi Verde" at Portland's Nostrana restaurant, is top-notch.
In case you're wondering "what's with the scissors?" — it's to slice your pizza, which comes uncut.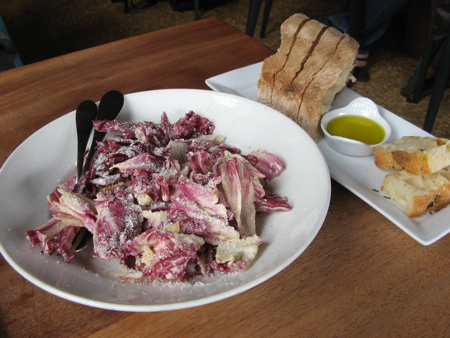 Besides pizza, Nostrana's kitchen turns out several salads — including their signature Insalata Nostrana, just-bitter-enough radicchio tossed with a creamy Caesar-style dressing — as well as a few pastas, rostisserie chicken, and (in the evening), a well-edited list of contemporary Italian dishes.
But it's the pizza that's earned the well-deserved plaudits for Nostrana chef-owner Cathy Whims. And it's the pizza you should eat!
Where is your favorite pizzeria, WanderFoodies? Please leave a comment and dish on the deep dish (and the thin-crust, too!).
And if you'd like to try Nostrana's signature salad at home, here's the recipe:
Insalata Nostrana
Adapted from Chef Cathy Whims
Prep the Radicchio:
2 large heads of radicchio (the round Verona type)
Break apart radicchio into 1 1/2″ pieces and soak in slightly iced water for 2 hours. Meanwhile prepare croutons and dressing.
Prepare the Dressing:
1 cup extra virgin olive oil
3 Tbsp red wine vinegar
2 Tbsp white wine
2 Tbsp mayonnaise
4 anchovies in olive oil, finely chopped
2 egg yolks
2 cloves garlic, pounded with a pinch of salt in a mortar and pestle
Add all dressing ingredients to food processor and process until emulsified. Season with salt and pepper.
Make the Croutons:
3 cups of cubed (3/4 ") focaccia, flavored with sage, basil or rosemary; or crusty artisan country bread
4 Tbs unsalted butter
up to 1 Tbs chopped fresh sage and rosemary
Preheat oven to 375 degrees. Bake focaccia cubes on a large baking sheet until toasted all over, about 10 – 15 minutes. Meanwhile melt butter with the herbs until fragrant. Add toasted focaccia cubes, toss well, and let cool.
Assemble the Salad:
Drain radicchio, spin well in salad spinner, and place in large salad bowl.
Toss with dressing to coat well, add croutons, then shower salaad generously with about 1/2 cup finely grated Parmigiano.
Enjoy!
If you go…
Nostrana, 1401 SE Morrison in Portland, Oregon, 503-234-2427, is a high-ceilinged, almost barn-like room, just east of downtown. The restaurant is open for lunch Monday through Friday and dinner nightly.
Nostrana isn't participating in Portland Dining Month, but their sister eatery, Oven and Shaker in the Pearl District, is offering a $25 three-course menu — pizza included! — through the end of June.
Tasty Travels!
Carolyn
Photo credits:
Photos © Carolyn B. Heller