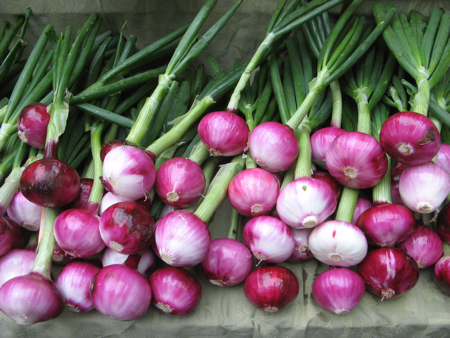 Looking for good eats this weekend? If you're in Portland, Oregon, head for the Saturday Farmers Market on the campus of Portland State University.
It's not all lettuces, onions, and artichokes — although there are plenty of delicious vegetable specimens.
Look for fresh fruits — it's strawberry season now! — as well as cheeses (Rogue Creamery is an Oregon standout, specializing blue cheeses, like their Oregonzola), cured meats (like saucissons from Olympic Provisions or Chop Butchery & Charcuterie), locally-made fruit sodas from Hot Lips, and an array of prepared foods.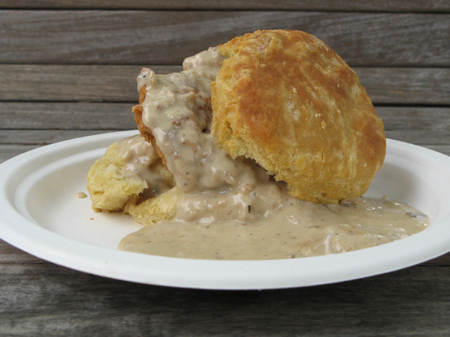 There's always a line up at Pine State Biscuits for their over-sized biscuit sandwiches, like this one — stuffed with fried chicken pieces and slathered with either mushroom or sausage gravy.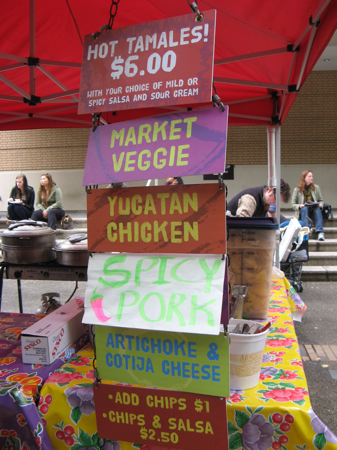 I thought that $6 was a little rich for tamales, until I saw — and sampled — these excellent versions from Salvador Molly's, which could almost serve two!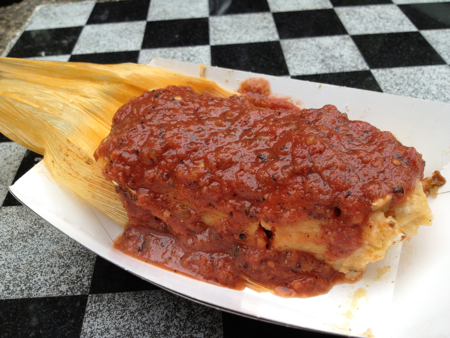 And who knows? While you're browsing for baguettes or choosing your cherries, you might even meet a rapping gorilla!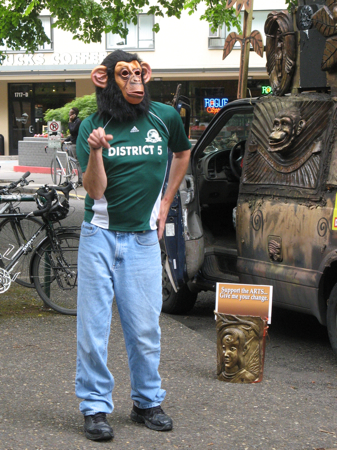 Where are your favorite farmers' markets? Please leave a comment and share your farmers' market finds!
If you go…
The Portland Saturday Farmers Market, on the Portland State University campus just south of downtown, is open from mid-March through mid-December. Market hours are 8:30 am–2 pm (9 am-2 pm in November and December).
Tasty Travels!
Carolyn
Photo credits:
Tamale photo © Alan Albert
All other photos © Carolyn B. Heller