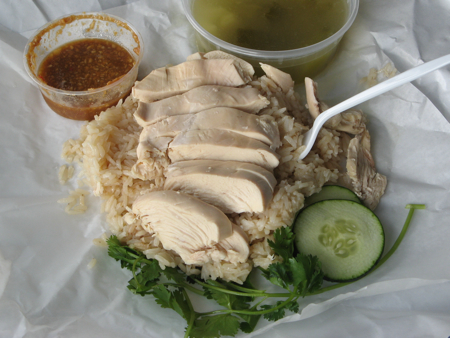 When a restaurant is hyped from Bon Appetit to the blogsphere, do you want to try it?
Or do you need to discover new deliciousness on your own?
When I was planning my recent trip to Portland, the restaurant I kept reading about was actually one of the city's most highly praised food carts: Nong's Khao Man Gai. And they make only one dish: khao man gai — Thai chicken and rice.
I was intensely curious about Nong's — how could such a simple dish have such a devoted following?
I arrived at Nong's shortly after their 10 am opening and left with a butcher paper-wrapped package of flavorful rice, unbelievably tender poached chicken, and a mildly spicy "soybean sauce," flavored with garlic, ginger, and chilies.
Am I glad that the reviews sent me to Nong's? Absolutely! I loved the khao man gai, too. (Although next time, I'd ask for my sauce extra spicy…)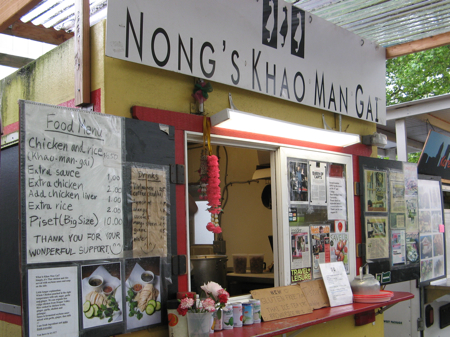 What do you think? Do you want to try others' food finds? Or strike out on your own? Discuss!
And since it's WanderFood Wednesday, please share your own food discoveries. Here's how:
Post a food photo on your site.
Add a brief description about the photo and include a link to WanderFood Wednesday.
Add your blog name and post title to the "Mr. Linky" form below, with a link directly to your post (not to your main blog). That's it!
[mrlinky owner=wanderfood postid=19Jun2012 meme=2888]
If you go…
Nong's Khao Man Gai is in the food court "pod" at SW 10th and Alder, in downtown Portland, Oregon. They're open Monday through Friday from 10 am to 4 pm, unless the food runs out sooner.
For more Portland food adventures, check out The WanderFoodie Eats Portland, reviews of the $25 three-course Portland Dining Month menus at Clyde Common and Aviary, and a Mexican food cart find.
Tasty Travels!
Carolyn
Photo credits:
Photos © Carolyn B. Heller