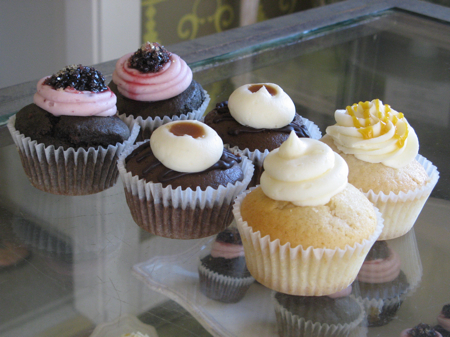 One problem with taking a solo road trip is that you're always the designated driver. I'm en route from Vancouver to Los Angeles, when I pull into the California wine country town of Los Olivos in the hills north of Santa Barbara to find the main street lined with tasting rooms.
Rooms filled, as it were, with forbidden fruit.
The one exception is the Sarloos Winery tasting room, where not only can you taste wine, but you can also tuck into the elaborately decorated wine cupcakes from Enjoy Cupcakes.
Even though I haven't jumped on the cupcake bandwagon, I love the chocolate blackberry syrah variety I sampled. It really does taste like rich dark chocolate infused with a hearty red wine. Yum!
And there's no limit on how many cupcakes the designated driver is allowed to eat… 🙂
About the "Hit the Road Hungry" Road Trip
I'm doing a solo road trip from Vancouver to Los Angeles, working with a company called Hit The Road that pairs people who want to take road trips with people who need their cars moved. I'm delivering a forest green 1998 Honda Civic for its owners who are moving from British Columbia to southern California, and I'm eating my way down the west coast.
The previous posts in this series are:
When Plans for Pie Go Awry
Taco Craving
Pok Pok in Portland
Living The Serious Coffee Lifestyle in Portland
Bites By Bike, with Portland's Pedal Bike Tours
Taste of Korea: A Taste of the Food Cart Scene in Portland
I Should Have Had the Deep-Fried Pickles
Winding Through the Redwood Forest
Ten Thousand Buddhas, One Highway Patrolman, But No Lunch
Time for Biscuits and Gravy!
California Cuisine at La Bicyclette in Carmel
A Farmers' Market — and Street Party — in San Luis Obispo
I hope you'll continue to follow along as I "Hit the Road Hungry!"
Tasty Travels!
Carolyn
Photo credits:
Cupcake Photo © Carolyn B. Heller