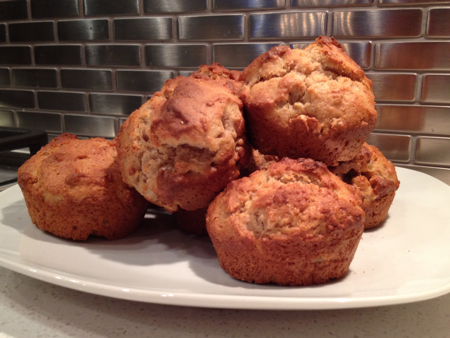 Do you have favorite road trip snacks?
I'm packing for my Hit The Road Hungry trip from Vancouver to Los Angeles, and while you can bet that I'm going to stop frequently to eat along the way, I'm taking a bag of snacks, too.
Here are a few of my favorite on-the-go snacks:
Nuts: Good source of protein, stays fresh for a while, not messy to eat in the car. Roasted almonds travel quite well.
Dried fruit: Apricots, raisins, and cranberries are all good for quick energy, but I especially love dates. They can be sticky, though, so don't forget to pack the hand wipes.
Fresh fruit: Refreshing — and a good balance to the sweets you might be stopping to eat en route. Apples and grapes are easy to eat in the car, and in summer, I can't pass up cherries. Just remember that if you're crossing an international border — as I will be — that transporting fresh fruit is generally not allowed.
Muffins: Small home-baked muffins give your day a little sweetness, and they work for either breakfast or snacks. When I was a kid, my mom frequently made fresh muffins on Sunday mornings, and this simple recipe is still one of my favorites.
And even if you're not about to hit the road, these muffins are an excellent treat to enjoy at home in your own cozy bed!
Mom's Sunday Morning Cinnamon Muffins
If you like a strong cinnamon flavor, use the full two teaspoons. I like to add nuts and dried cranberries or raisins, but the rest of my family likes them plain. They're good either way!
Ingredients:
1 1/2 cups white flour
1/2 cup wheat germ (optional)
1/2 cup sugar
2 tsp. baking powder
1 – 2 tsp. cinnamon
1/2 tsp. salt
1/2 cup butter or vegetable oil
1 egg
2/3 – 1 cup milk or water
1/2 cup roughly chopped walnuts (optional)
1/2 cup raisins or dried cranberries (optional)
Method:
Preheat oven to 400°F. Butter (or spray with vegetable spray) a muffin tin.
In a large mixing bowl, combine dry ingredients. Cut in butter until just blended or add oil and gently mix. Add egg and 2/3 cup milk, stirring until ingredients are just blended. If the batter is too thick to blend, add a small amount more milk. Stir in nuts and dried fruit, if using.
Fill muffin cups about 2/3 full. Bake for about 15 minutes or until tops are lightly browned and a toothpick inserted into the center of a muffin comes out clean.
Cool slightly on a rack and enjoy!
Makes 12 small muffins
OK, gotta go pack! If you've got other suggestions for favorite road trip snacks, please leave a comment and share your tips.
Tasty Travels!
Carolyn
Photo credits:
Muffin photo © Alan Albert