I am such a sucker for a malasada. Why? Well, I would never eat something like this at home. It's way too sugary and calorie-filled for me to give in to temptation. BUT, when in Hawaii, well, all bets are off.
I mean, it's a vacation spot, right? All adherence to good eating habits can go out the window, right? (Please nod yes.)
On our way across the top of Hawaii Island, we stopped at Tex Drive In for a malasada (or 2). Malasadas, most famous on Oahu at Leonard's, are similar to filled donuts. At Tex's, there are a variety of fillings to choose from including Bavarian cream (above), chocolate, mango, strawberry and more.
Thank goodness they don't display the calorie count for these. I ate 2 of them. I could probably have eaten 3.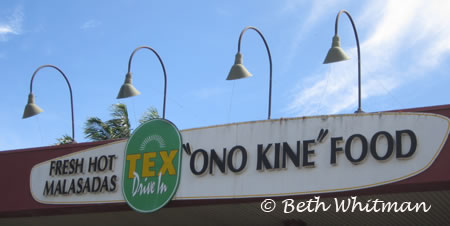 If you find yourself taking a drive just east of Waimea, stop in for a bit of authentic Hawaii. Here's where to find them:
Tex Drive In
45-690 Pakalana St Hwy 19
Honokaa, HI 96727
Life's Short, Eat Well!