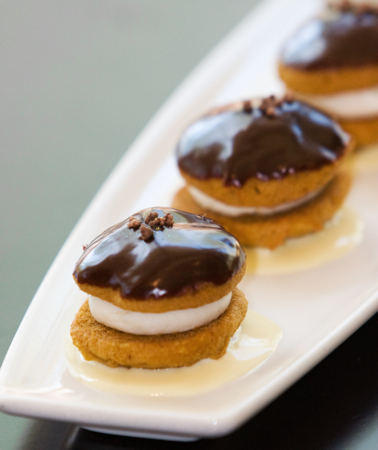 "Yes, the day came when I got down off my high horse and used Marshmallow Fluff in a recipe. And you know what? The world didn't end."
I didn't write those words. But I could have.
Judy Rosenberg, author of one of my favorite baking cookbooks, Rosie's Bakery Chocolate-Packed, Jam-Filled, Butter-Rich, No-Holds-Barred Cookie Book, like me, apparently has food snob tendencies. When my daughter read this Marshmallow Fluff quote in Rosenberg's recipe for Pumpkin Whoopie Pies, she shrieked with laughter, "Mom! You have to make these!"
And when I had a chance to sample pumpkin whoopie pies at District American Kitchen & Wine Bar on a recent trip to Phoenix, I knew that pumpkin whoopie pies, filled with a marshmallow buttercream, were in my future.
District's Pastry Chef Winnona Herr shared her whoopie pie recipe, and they'd be an excellent addition to a Valentine's Day meal, particularly if you glazed them with chocolate.
Chef Winnona's Pumpkin Whoopie Pies
Adapted from District American Kitchen & Wine Bar
In the restaurant kitchen, Chef Winnona uses a 1-ounce scoop to shape the pumpkin cookies and a pastry bag to pipe the filling. Although the results won't be as uniform or refined, you can simply drop the batter by rounded tablespoons onto the baking sheet and when the cookies are cool, spread the filling with a knife.
Whoopie Pie Ingredients:
4 oz butter, at room temperature
1 cup granulated sugar
1 cup pumpkin puree, canned
1 egg
¼ cup applesauce
1 tsp. vanilla
¼ cup milk
½ cup canola or other vegetable oil
2 cups all-purpose flour
2 tsp. ground cinnamon
¾ tsp. ground ginger
¾ tsp. baking soda
¾ tsp. nutmeg
½ tsp. sea salt
Whoopie Pie Method:
Preheat oven to 320°F. Place oven rack in the middle of the oven.
Line two sheet pans with parchment paper.
In a mixer, cream together the butter and sugar until the butter changes color.
Add the pumpkin puree, egg, applesauce, vanilla, milk, and oil to the butter/sugar mixture and mix well.
Gently mix in the flour, cinnamon, ginger, baking soda, nutmeg, and salt.
Scoop the batter onto the parchment-lined sheet pans using a small 1-oz scoop.
Bake the pumpkin pies at 320°F for 9-12 minutes or until batter is set and tops are golden brown.
Cool completely on racks. These will serve as the tops and bottoms of the whoopie pies.
Marshmallow Filling Ingredients:
6 oz butter, at room temperature
1 ¼ cups powdered sugar
¾ cup marshmallow topping
Pinch sea salt
½ tsp. vanilla
Marshmallow Filling Method:
In a mixer, cream together the butter and powdered sugar until the butter changes color.
Add the marshmallow topping, salt, and vanilla and cream together.
Place the whoopie pie filling into a pastry bag with a small tip.
When the baked whoopie pies are completely cool, turn half of the pies over so that the flat surface is facing up.
Pipe a quarter-size portion of the filling onto the flat surface of each pie.
Top each of the filled halves with another baked whoopie pie, creating a sandwich.
Yield: 12-15 pumpkin whoopie pies
My pumpkin whoopie pies may not be as elegant as Chef Winnona's, but — Marshmallow Fluff and all — they're delicious.
And you know what? The world didn't end.
P.S. Judy Rosenberg, who owns the Boston-based Rosie's Bakeries, recently published an updated baking book, The Rosie's Bakery All-Butter, Cream-Filled, Sugar-Packed Baking Book. Ask for it for Valentine's Day!
P.P.S. Want to know more about whoopie pies? Read more on WanderFood, the New York Times, and the Food Network.
Happy Valentine's Day, and Tasty Travels!
Carolyn
Photo credits:
Chocolate-glazed pumpkin whoopie pies photo by Kelley Karnes, courtesy of the Sheraton Phoenix Downtown Hotel
Marshmallow Fluff photo © Carolyn B. Heller
Valentine whoopie pies photo © Carolyn B. Heller