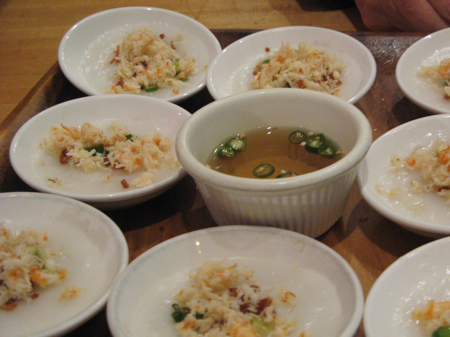 Did you guess this mystery dish?
I spent a few days in the Los Angeles area last week, and my best food adventure was lunch in the Little Saigon district, in the city of Westminster.
My parents, our friend Laura, and I crossed the bridge over the koi pond to enter Quan Hy Restaurant, which sits amid the jumbles of strip malls along Bolsa Avenue, housing herbalists, bakeries, groceries, and more restaurants than you could sample in a year.
Specializing in the cuisine of central Vietnam, Quan Hy serves up plenty of dishes that you don't see in every pho joint.
Our appetizer (and featured mystery dish) was a good example. Banh beo were eight toothsome disks of steamed rice — almost like a chewy rice custard — topped with shrimp, scallions, and bits of crispy fried shallots. Chili-studded fish sauce added a bit of tang and heat.
The refreshing jackfruit salad balanced sweet and savory, mixing the pale yellow fruit with shrimp, cilantro, onions, and pork.
It's hard to tell from this photo, but the colorful mi quang started with a bowl of lemon-yellow noodles (colored, I think, with turmeric), and topped with pork, lettuce, bean sprouts, herbs, peanuts, and shrimp chips. My mom chose a vegetarian version of this mild noodle dish, which substituted tofu for the pork.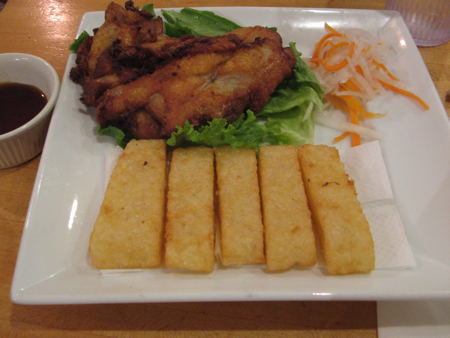 My dad, who is not the world's most adventurous eater, opted for the xoi ga, because the menu described it as a rather plain-sounding "chicken with sticky rice."
The chicken was tasty if mild, but the highlight, even for Dad, were the fried rice sticks — crispy outside, smooth and creamy within — which looked like bar-snack spears of deep-fried mozzarella. We could easily have eaten a whole plate of these comforting little treats.
Who needs pho when you have so many other intriguing flavors?
If you go…
Quan Hy Restaurant is at 9727 Bolsa Avenue, Westminster, CA, 714-775-7179. It's in the same complex as the massive T & K Food Market.
Sunset Magazine published a useful Guide to Little Saigon, with tips on grocery stores, bakeries, and snack shops.
Tasty Travels!
Carolyn
Photo credits:
All photos © Carolyn B. Heller