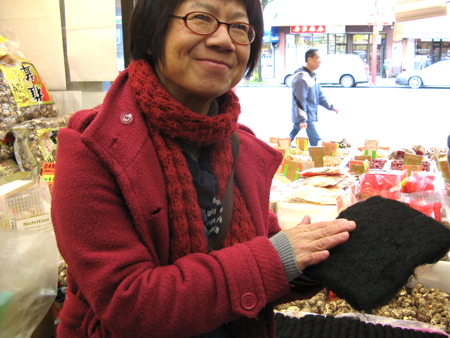 Stephanie Yuen holds up a square of wiry, black moss. It looks like a sponge that tumbled into a tub of jet-black paint.
Our group of eight is in the Guohua Herbalist Shop on Main Street in Vancouver's Chinatown. Yuen, a food writer and Chinese food expert (her website is called Beyond Chopsticks), is leading us on a Chinatown foodie tour, organized by local culinary experiences company, Edible Canada. She's taking us through the crowded neighborhood streets, introducing us to all manner of foods, herbs, and Chinese products, while dispensing culinary tips — and samples — along the way.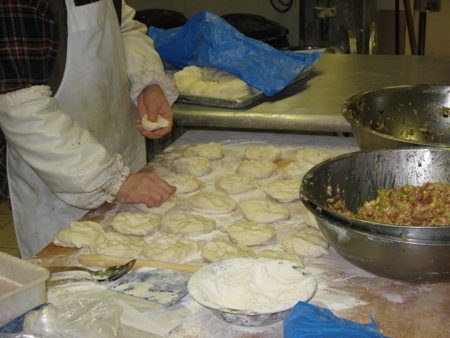 Blasts of steam swirl around us as we squeeze into the kitchen of the Sun Fresh Bakery on Keefer Street, where apron-clad counter staff press past us carrying tray after tray of pastries, from baked pumpkin pancakes to sesame-coated fried dough to steamed sponge cakes.
Fingers flying, arms wrapped wrist-to-elbow in cotton sleeve protectors, the two bun makers are rolling, pinching, and squeezing mounds of glossy white dough, stuffing them with gooey-looking spoonfuls of pork.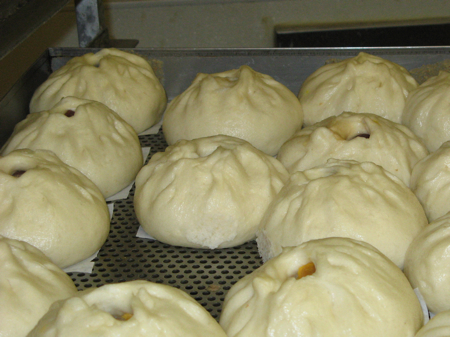 Yuen brings us big puffy steamed vegetable buns to taste. Filled with greens, they're pillowy soft outside but still slightly crisp within. I've sampled similar steamed buns before, but hot from the steamers, these are among the freshest I've tried.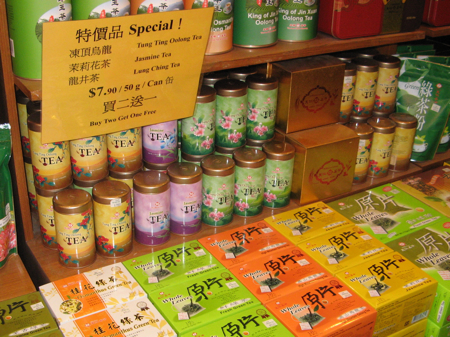 "Take a deep breath," says Yuen, as we crowd into another brightly lit Chinatown shop. "What you're smelling is some of the best stuff on earth."
No, we haven't taken a detour into a storefront selling the famous "BC bud." We're in the Ten Ren Tea shop, and what Yuen wants us to sniff is the earthy aroma of ginseng.
We sip mild, grassy ginseng tea, while Yuen extols the health benefits of the ginseng root, which is also commonly used in a Chinese "long-boiled" chicken soup. According to traditional Chinese medicine, Yuen explains, "ginseng will improve your immune system. We also believe that it will re-energize you."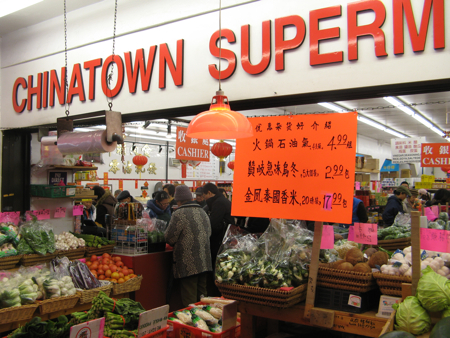 There's no lack of energy in the bustling Chinatown Supermarket, where we wedge between the rows of fruits and vegetables, the aisles packed with shoppers preparing for the Chinese New Year.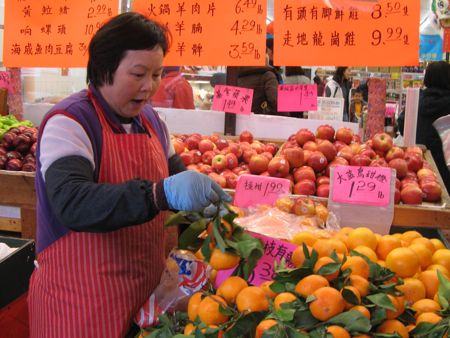 The reds and oranges we're seeing around Chinatown, from red banners to piles of fruit, are good luck colors, Yuen explains, signaling prosperity for the New Year. Oranges are particularly popular for the New Year's holiday, because their seeds represent growth.
Yuen holds up an unfamiliar brown root. It's a fresh bamboo shoot, nothing like the limp canned slices. Yuen advises slicing and quickly stir-frying it.
She gives us a quick primer on other vegetables. Daikon (used to make Korean kimchee and other pickles). Chinese celery (similar to, but more pungent than, the western variety). Taro (try slicing it and frying it like potato chips, she suggests). Kabocha squash (also called Japanese pumpkin, often used to make a dessert soup with a striking orange color).
Yuen identifies another nobby, brownish root as arrowroot. "You give it to newlyweds, so they'll have a boy," she smiles, noting a protuberance on the root that's shaped something like "a little boy's little thing."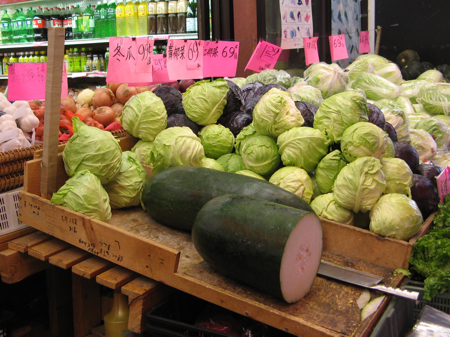 "Does anyone know what this is?" Yuen asks, gesturing toward a massive green-skinned vegetable. It looks like a zucchini left way too long in the garden, but it's actually a winter melon, commonly added to soups.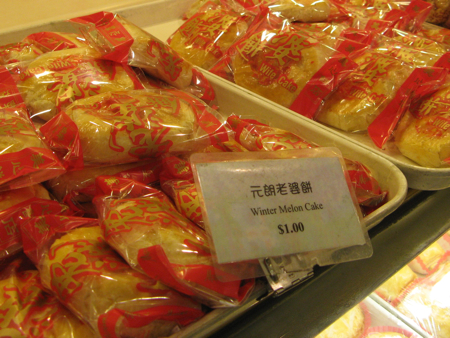 We learn a sweeter use for winter melon when we stop into Maxim's Bakery, where we sample a "wife cake." Yuen recounts a legend about this oddly-named pastry, which has a custard-like interior inside a flaky baked crust.
Apparently, a Chinese chef kept making pastries, trying to decide which to offer in his shop. Tasting each one, his wife rejected one creation after another. Finally, he made her a winter melon cake, which she declared was delicious. The chef dubbed it "my wife's cake," exclaiming, "If she approves it, it will sell!"
Hanging in the window at the Dollar Meat Shop is a whole, roast pig, alongside chickens, ribs, sausages, and two kinds of ducks. Yuen calls one variety a "pipa duck," because its flattened, oblong shape resembles the Chinese stringed instrument known as the pipa.
"The Chinese handle meat the same as Italians do," Yuen notes, pointing to the sausages and cured hams dangling from the ceiling of the Pender Street shop. She suggests cooking a small amount of salty Chinese ham with rice, and in an east-west twist, slicing Chinese sausage into strips and adding them with lettuce and other vegetables to a wrap.
We can't talk about meat without trying some, so Yuen brings out samples of the sausages — tasting faintly of lemon — and of the excellent barbecued ribs, sauced in a sweet-smoky marinade. I'd come back for those ribs in a second.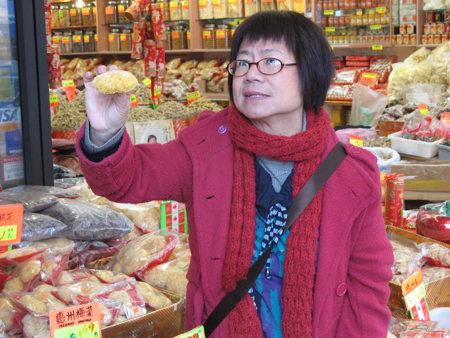 Back at the herbalist shop, Yuen holds a sponge-like substance, labeled "fungus," and surprises us by suggesting that it makes an excellent dessert. Soak it in water, she says, then steam it, add canned fruits, and drizzle with chocolate. It sounds weird enough that it might even be good!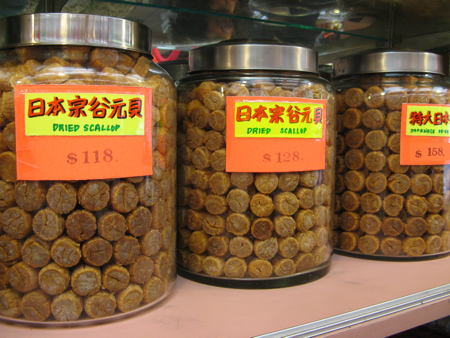 Yuen leads us around the shop, pointing out various products, from dried scallops ("a delicacy") to birds' nests, while we munch on sweet dried plums and another dried fruit called longan, or "dragon's eye." Similar to a plum, but with a smokier flavor, longan is used in soups, teas, and desserts.
As she waves what looks like a flattened lizard on a stick (it turns out to be a dried gecko), Yuen tells us more about traditional Chinese medicine, explaining how different herbs, roots, and even dried creatures are used to regulate the body's humors and treat various conditions. "Western doctors cure the symptoms. Chinese doctors go right to the root of things," she says. She cautioned us to consult a trained practitioner, rather than trying to give ourselves an herbal cure, although I don't think any of us were planning to sample the gecko unsupervised…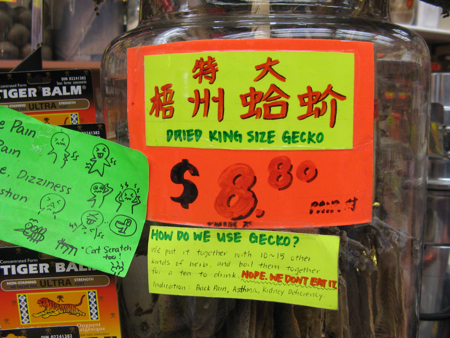 Remember the hairy black square that Yuen was holding?
It's called "hairy moss," and it's a crucial ingredient in Chinese New Year dishes, from vegetable hot pots to braised pork hocks. Its Chinese name — fa cai in Mandarin or fat choy in Cantonese — is a homonym for the words "to get rich," the same expression that the Chinese use to wish each other a happy new year: Gong Xi Fa Cai! Gong Hay Fat Choy!
Our tasty tour wrapped up with a dim sum lunch. I'll share the delicious details in my next post — stay tuned!
If you go…
Edible Canada offers tours of Chinatown most Saturdays, departing from the Dr. Sun Yat Sen Classical Chinese Garden. You can choose from a two-hour neighborhood tour ($40) or a tour plus a dim sum lunch ($65). For the next two Saturdays (January 28 and February 4, 2012), during the Dine Out Vancouver festival, you can take the basic Chinatown tour for only $30. A great deal! Reservations are required; book on the Edible Canada website.
Do you have a food post to share with WanderFood readers? Join the WanderFood Wednesday blog carnival! Here's all you do:
1) Add a food-related post — a recipe, food photo, or any other foodie find — to your site, and include a link to WanderFood Wednesday.
2) Add your blog name and the title of your food post to the "Mr. Linky" form below, with a link directly to your food post (not to your main blog).
[mrlinky owner=wanderfood postid=24Jan2012 meme=2888]
Tasty Travels!
Carolyn
Photo credits:
All photos © Carolyn B. Heller
Thanks to Edible Canada and Tourism Vancouver for arranging my Chinatown tour.