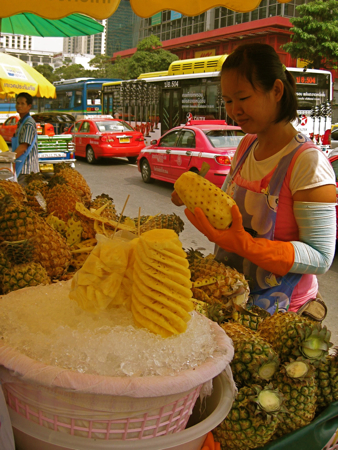 On a long-ago trip to Thailand, my favorite street food was one of the simplest — pineapple. We'd buy it from the street vendors, who sold plastic bags full of the sweetest, juiciest fruit I'd ever eaten.
But it was the addictive, and deceptively simple, dipping "powder" that kept me coming back for more. A mix of sugar, salt, and chili pepper that somehow brought out the sweetness of the pineapple. Even today, I rarely eat pineapple without mixing up some of this sweet, salty, fiery powder that sticks so smoothly to the fruit.
My family and I are moving this week, so perhaps that's why I've been thinking about food that's easy to pick up and go. And I've realized that some of my favorite foods are portable!
In France, it's always a toss up between the sweet and the savory. Do I start my day with pain au chocolat?
…or pick up a crusty baguette and a wedge of oozing, ripe Camembert?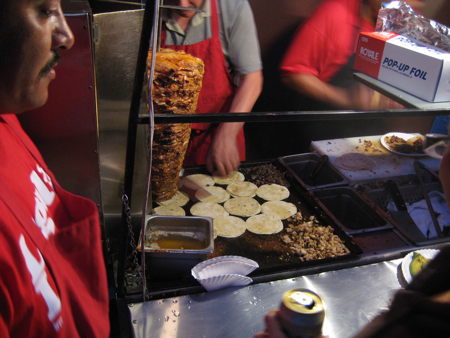 I love how so many cultures have some form of sandwich or wrap. Whether it's tacos in Mexico…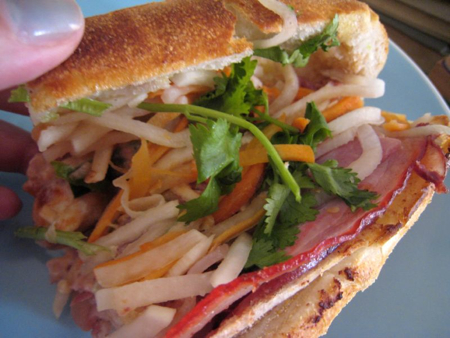 …bahn mi in Vietnam,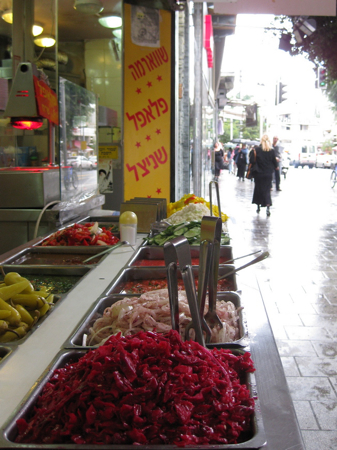 … or falafel in Israel. Particularly at stands like this one, where you can add as many different kinds of vegetables as you can stuff into your pita.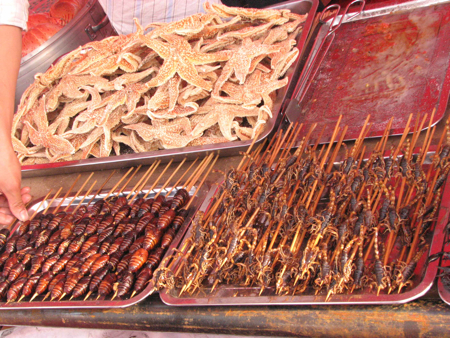 I'm an adventurous eater, but I wasn't brave enough to sample these starfish, scorpions, and other beasties from a street stall in China. Have you ever tried them?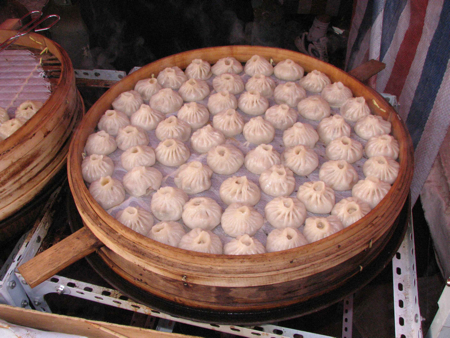 I opted for dumplings instead. Tamer, perhaps, but still delish!
Now here's the question: If you could eat only food-to-go for the rest of your life, what country would you choose to live in? Please leave a comment and let us know where you'd pick. Thanks!
OK, gotta go pack…
[mrlinky owner=wanderfood postid=14Dec2011 meme=2888]
Tasty Travels!
Carolyn
Photo credits:
Thai pineapple vendor by mari.francille (flickr)
Pain au chocolat by cowlet (flickr)
Woman with baguette by joeshlabotnik (flickr)
Bahn mi by scaredy_kat (flickr)
Taco stand by ricardodiaz11 (flickr)
Falafel stand by Michael Plump (flickr)
Starfish in China ©Alan Albert
Chinese dumplings ©Alan Albert