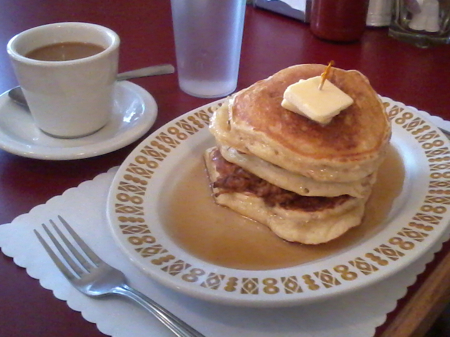 Is meat an essential ingredient in pancakes? I never thought so.
But that was before I met up with pulled pork pancakes.
Here's the scene: It's noontime on a Saturday at The Red Wagon, a grunge-hip storefront in a former pho joint, on a jaggedly gentrifying, East Vancouver grunge-hip block.
An eclectic mix of diners has braved the line-up that snakes around the corner. There's a tweedy greying couple, a trio of tough-looking black-clad women, and young parents with a toddler who's made Dad a multicolored necklace of blocks that he's unashamedly strung around his neck.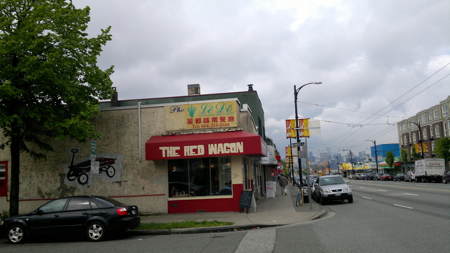 Inside, the coffee is hot, the vibe is laid-back, and plate after plate of pancakes comes out of the bustling kitchen.
You can get your pancakes without meat, and they're a worthy choice, puffy and tender with a slight buttermilk tang.
But layer those fluffy pancakes with chili-scented pulled pork and drench them in real maple syrup punched up with a healthy dollop of Jack Daniels, and you'll wonder why you haven't been slathering pork on your pancakes your whole life.
If you go…
The Red Wagon is at 2296 East Hastings Street, Vancouver, BC, 604-568-4565.
From downtown Vancouver, hop on an eastbound bus #14, 16, or 135 and get off at the corner of Hastings and Nanaimo. It's about a 20-minute ride.
If you're not a meat-eater, the Red Wagon also makes an excellent tofu scramble, sauteed with spinach, tomatoes, mushrooms, and fresh basil — a well-composed dish, not a haphazard vegetarian afterthought.
This weekend is a great time to explore East Vancouver, when the neighborhood hosts the 15th annual Eastside Culture Crawl, and nearly 350 local artists open their studios to the public.
The Culture Crawl runs Friday, November 18 from 5 to 10pm, and Saturday-Sunday, November 19-20 from 11am to 6pm.
Now it's your turn to dish on a neighborhood joint. Please leave a comment and tell us about a favorite local eatery or unexpectedly excellent local plate. Thanks!
[mrlinky owner=wanderfood postid=15Nov2011 meme=2888]
Tasty Travels!
Carolyn
Photo credits:
Pulled pork pancakes © Alan Albert
The Red Wagon by roland (flickr)
East Van Cross by chris.huggins (flickr)