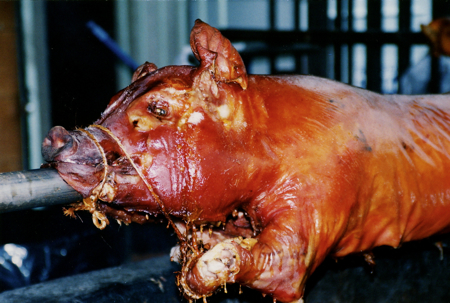 It's pouring rain — a rushing-through-the-downspouts, whipping-down-the-palm-leaves, rainforest rain. We dash out of our rental car and duck under the tin canopy of a modest roadside stand, where the downpour rat-ta-tat-tats like a snare drum on the metal roof. Our nine-year-old twins Michaela and Talia are laughing and shaking off like puppies, when we all look up and see that we're face-to-face with a whole, golden-brown, spit-roasting pig.
We've been driving over Puerto Rico's Sierra de Guardarraya mountains, crawling up and down the steeply peaked, brilliant green hills, looking for lunch. Our destination? Route 184, also known as La Ruta de Lechón — the Roast Pork Highway.
Along Route 184, lechoneras (pork stands) crowd cheek by jowl, like a spirited roadside carnival. Except instead of Ferris Wheels and cotton candy, there are whole pigs circling over the coals and puffy mounds of mofongo, garlicky mashed plantains.
Confronting our first pig, my husband Alan, the girls, and I settle on our pigout plan: to taste a representative sample of lechón, we'll visit four lechoneras, ordering one meal to share from each.
It's only 11:45 on a Sunday morning, and despite the heavy rain, there's already a crowd chowing down under the precariously-angled tin roof of Lechonera El Monte.
The pig master, a patient older gent in a starched white apron, suggests that we start with a half-pound of pork. He approaches the pig–impaled on a metal rod with its front and hind legs tied, warming over an open fire–and with his machete-like knife, hacks off some meat and piles it on a paper plate.
From the ample buffet of side dishes, including rice, beans, and many variations on the fried-banana theme, we choose arañitas, crispy fritters made from strips of grated plantains. The name, we later learn, means "little spiders."
The twins take our plate over to a picnic table and begin grabbing fistfuls of meat, stuffing it into their mouths as if they hadn't eaten in years.
"Use a fork, please," Alan admonishes. "Don't be piggy."
When the girls pause to roll their eyes at Dad, I take my turn nibbling the falling-off-the-bone-tender pork. It's salty and juicy, tasting of smoke, and well, pig. It's delicious.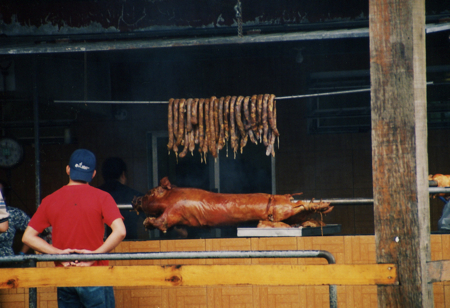 Wiping our now-greasy fingers, we call "muchas gracias" to the counterman and dart across the road through the downpour to Lechonera El Rancho Original. A tour bus is unloading its cargo of Sunday-dressed grandpas and grandmas in front of the cafeteria line. When we duck inside to wait our turn, we find an actual sit-down restaurant. The walls are decorated with cowboy pictures, and there's an indoor restroom. This apparently counts for upscale on the lechón trail.
From a similar selection of pig and side dishes, plus a row of longaniza — long sausages dangling above the rotisserie — we opt for another half-pound of meat. Perhaps the busload of patrons raised our expectations too high, but this pork tastes drier and blander.
Up the road at the even more modest El Tabonuco, our next stop, the sign boasts, "Sin musica, pero con cariño" — "Without music but with love." A pig roasts over a kettledrum grill, and the other customers are a group of nuns, dressed in luminous white habits. The unadorned pork we try, seasoned only with salt and pepper, is simple, almost spare. Perhaps it's the lechón version of the nuns' life.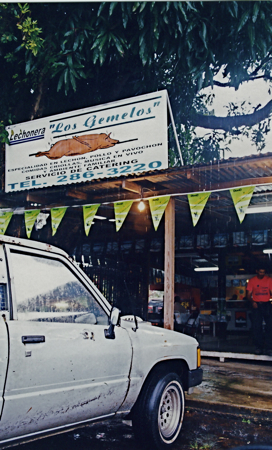 Several other lechoneras line this stretch of the highway, but they're empty and rather forlorn, so we get back in the car and continue along Route 184 until we spot a banner advertising Lechonera Los Gemelos — "The Twins."
It must be a sign. We stop and unload our own twins from the car.
Under another seemingly makeshift picnic shelter, this one plastered with posters advertising cigarettes and beer, we order one more half-pound of pork, along with a mound of what looks like pale roast potatoes. They turn out to be sweet, creamy yams.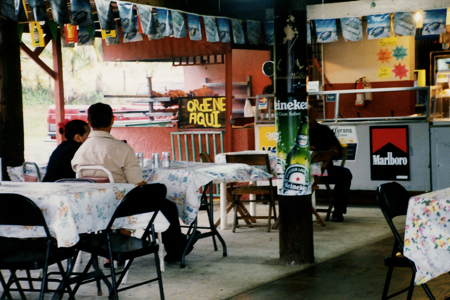 And the pork?
The moist, juicy meat is scented with smoke and nicely seasoned with plenty of salt and pepper. A shake of vinegary hot sauce is the perfect complement.
The lechón at our first stop was excellent, but here at the end of this pig tale, as we pile back into the car and continue on through the rain toward the urban bustle of San Juan, all four of us are in hog heaven.
If you go…
Puerto Rico's lechoneras cluster along Route 184, between KM 29 and 27. From San Juan, take Highway 2 south to Route 184, then head east. It's about an hour's drive.
Mid-day on Saturdays and Sundays are the busiest pork times. Some lechoneras are open weekends only, while others are open Wednesday or Thursday through Sunday.
It helps to speak some Spanish, but since service at most lechoneras is cafeteria-style, pointing works pretty well, too.
The Puerto Rico Tourism Company can give you more information about travel to the island.
[mrlinky owner=wanderfood postid=09Nov2011 meme=2888]
Photos © Alan Albert