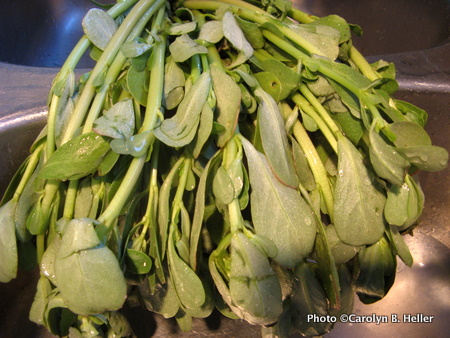 I haven't been traveling much lately – mostly because I've been scrambling to finish a guidebook manuscript – but I'm still filled with wanderlust. I especially miss the discoveries of weird and wonderful new foods that are always part of my travel adventures.
Fortunately, even though I was at home the other day, an exotic ingredient appeared in my kitchen.
We get a weekly CSA box from our local farm, the UBC Farm in Vancouver.
And in this week's box was a bushy bunch of unfamiliar greens.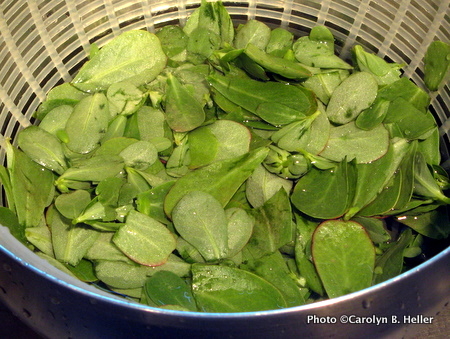 In many areas, purslane is apparently considered a weed, a rapidly growing, leafy green plague that will take over your garden if you don't aggressively root it out.
It's also food.
When I began reading about purslane, I learned that you can toss it into salads – it has a slightly peppery taste, like arugula, but with a lemony note – or you can gently sauté or stir-fry it.
Hunting around my kitchen for potentially compatible ingredients, I found onions, garlic, zucchini, and fresh cherry tomatoes, as well as some potatoes.
Not sure exactly what I was going to prepare, I started by chopping the onions and sautéing them in olive oil. I mashed the garlic with some kosher salt, then added it and the chopped zucchini to the onions.
Separately, I steamed the potatoes, then tossed them with a pat of butter, a spoonful of olive oil, salt, and pepper.
When the onion-zucchini mixture began to soften, I added the tomatoes, let them cook down briefly, and then sprinkled in the purslane leaves.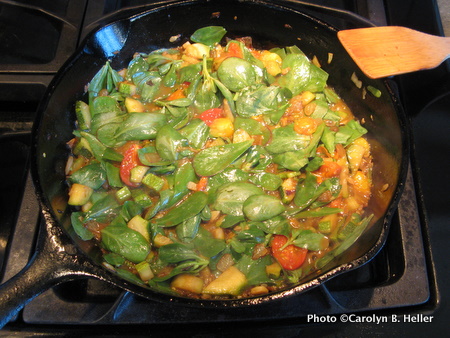 Although it was less tomato-y and more green, the vegetable mixture reminded me of shakshuka, the Israeli dish of eggs in a spicy tomato sauce, so I fried a couple of eggs and slid them onto the vegetables.
The purslane added a slightly sharp, lemon flavor that complemented the savory eggs, onions, and zucchini.
It wasn't a picnic in Peru, an eating expedition to Egypt, or a culinary quest in Korea.
But thanks to the purslane, it was a fine, farm box food adventure.
**********
Do you know other good ways to use purslane? Or have you had other food adventures at home?
(And while you're at it, I could use some ideas for beets and zucchini, which have been arriving in over-abundance in my farm box.)
Please share your experiences below. Thanks!
[mrlinky owner=wanderfood postid=07Sep2011 meme=2888]
Photo credits:
All photos ©Carolyn B. Heller