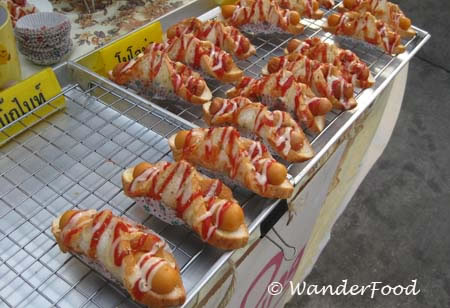 Not a hot dog person myself, I still think these are tempting.
This is pretty typical of the well-appointed food stalls you'll find along Bangkok's sidewalks. Meander the city day or night, and there will be a food vendor offering up some tasty item or two. I'm told that many apartments in Bangkok don't even have kitchens, so that leaves most office workers picking up their meals on their way to work.
And most look this great as if they are created with some TLC. Take THAT New York hot dog vendors 🙂
Please join WanderFood Wednesday! Here's all you do:
1) Add a food-related post to your site (it can be a recipe, food photo or any other foodie find)
2) Include a link to WanderFood Wednesday so your readers can enjoy other food posts
3) For the best click-through results, add your name OR your blog name and the title of that day's post to the Mr. Linky form below
4) Include a link directly to your food post (not your main blog)
If you're a newbie, see more about WanderFood Wednesday here.
Life's Short, Eat Well!
[mrlinky owner=wanderfood postid=31May2011 meme=2888]