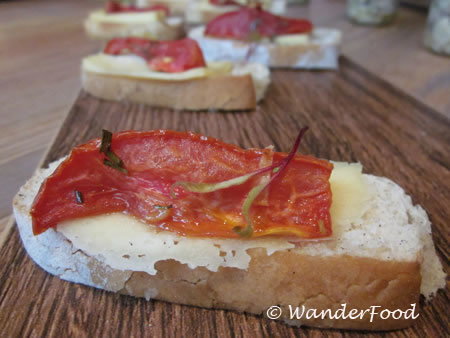 During my stay at Rancho la Puerta, our little group took a side trip to Tijuana one day. The reason we were given was that the folks at RLP wanted us to experience a different Tijuana than one hears about in the news. But I suspect the real reason was… to eat. And eat, and eat and eat! 🙂
No complaining here.
We started our tour at the Culinary Art School. This new (beautiful) facility opened about 6 months ago and is housed in swanky upscale buildings with a small footprint but big personality. Students come from around the world to attend and many of them go abroad to study for their internships (Spain and Argentina were mentioned most often).
We were treated to a few rounds of appetizers which included bread topped with sun-dried tomatoes and cheese and tempura-like fried bananas on a stick. I could have spent the entire day eating at the school but I stopped myself because the next destination was Mision 19 Restaurant (where we spent 3+ hours dining!).
I'm just waiting for one of those students to come to Seattle to influence some of our local eateries. I need to get me some more of those fried bananas!
You might also consider the Pacific Institute of Culinary Arts in Vancouver which focuses on baking and pastry arts education. Total yum!
Please join WanderFood Wednesday! Here's all you do:
1) Add a food-related post to your site (it can be a recipe, food photo or any other foodie find)
2) Include a link to WanderFood Wednesday so your readers can enjoy other food posts
3) For the best click-through results, add your name OR your blog name and the title of that day's post to the Mr. Linky form below
4) Include a link directly to your food post (not your main blog)
If you're a newbie, see more about WanderFood Wednesday here.
Life's Short, Eat Well!