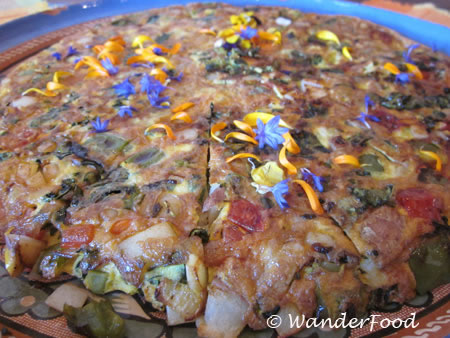 I spent last week at Rancho la Puerta in Mexico. This destination spa is mostly about exercise, but I was in heaven with all the super healthy food I got to enjoy all week.
Myself, along with some other fantastic travel bloggers, took a hands-on cooking class at the Ranch's nearby cooking school, La Cocina Que Canta.
We were each set up at a different stations where we chopped, measured, mixed and, eventually, ate…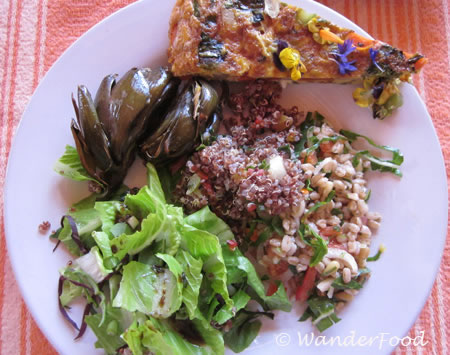 …frittata, salad, farro, artichokes and quinoa. Others enjoyed fish but I stuck with the veggie medley. Oh and dessert, of course!
While there's nothing like walking outside of the cooking school to pick your own greens in the acres of gardens they maintain, I AM trying to bring home some of the Ranch and have been eating better since my return. In the words of Melanie at Travels with Two, "Thank you Rancho la Puerta!"
Please join WanderFood Wednesday! Here's all you do:
1) Add a food-related post to your site (it can be a recipe, food photo or any other foodie find)
2) Include a link to WanderFood Wednesday so your readers can enjoy other food posts
3) For the best click-through results, add your name OR your blog name and the title of that day's post to the Mr. Linky form below
4) Include a link directly to your food post (not your main blog)
If you're a newbie, see more about WanderFood Wednesday here.
Life's Short, Eat Well!
[mrlinky owner=wanderfood postid=19Apr2011 meme=2888]