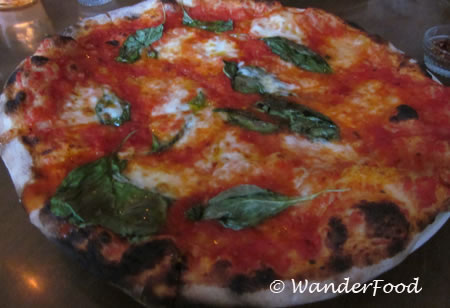 I had heard about Delancey from numerous people, including Jessie from Wandering Educators all the way over there in Michigan! Apparently, this is supposed to be THE place to go for pizza in our city-so-lacking-in-the-real-east-coast-deal.
Owned by Orangette blogger, Molly Wizenberg, and her hubby Brandon Pettit, word is that they opened this joint to fulfill their own longing for an authentic east coast pie. (As a Jersey girl, this is something I complain about a lot – the lack of a decent slice in Seattle.)
I'm a gal who will pass up most pizza opportunities in order to "save" herself for a really good Jersey pie during once-a-year family visits. In other words, my standards are high. Regardless, I had high expectations for Delancey. The hype! The 2-hour wait time! How could it not be the best pizza on the west coast?
While my dinner companions enjoyed meatier options, I ate the Margherita, which was, I admit, pretty good. There wasn't so much cheese or olive oil that it was dripping – a common problem for many slices. The crust was east coast thin, which was also a great touch. But I also didn't find it super tasty. Perhaps the sauce was lacking in spice or the basil not basily enough. I'm just not sure why but I wasn't over the moon.
There were plenty of pizza options for meat and non-meat eaters as well as salads and olives. There were also a couple of dessert options including Key Lime Mousse (which we enjoyed) and cookies. The wines seemed to be priced a tad high (most of the glasses were $9) but the pizzas were pretty reasonably priced going for between $12 – $16 and, along with an appetizer, could easily feed 2 people.
We were fortunate that one of our friends put our name on the waiting list as soon as Delancey opened at 5 p.m. and we only had to wait a few minutes when we arrived at 6:30. But those who showed up at 6:30 (not having been on the list) were told it was a 2-hour wait. How could you NOT have high expectations with that kind of a waitlist? (By the way, they take reservations for 6+ peeps.)
Expectations aside, I think their wood-fired pizza was very close to what's served at the well-established Tutta Bella restaurants and you don't have to starve waiting to be seated there.
Will I return to Delancey? Maybe – if I can be guaranteed seating at a specific time. Otherwise, there are a couple of other pizzerias where I break down and eat on occasion while I'm counting the days for my next trip to Jersey.
Interested in testing it out for yourself? Here's how to find 'em:
Delancey
1415 NW 70th Street
Seattle, WA 98107 (Ballard neighborhood)
206-838-1960
Come back to join the WanderFood Wednesday meme!
Life's Short, Eat Well!