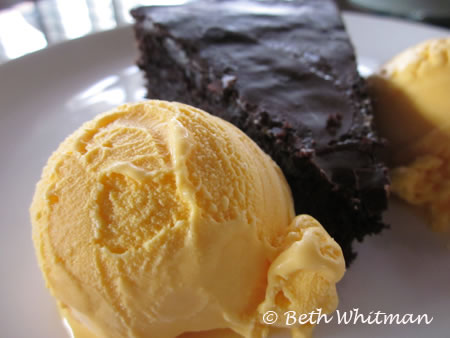 On a whim, I stepped into Cafe Crafters in Jew Town (yes, that's the name of the area and I feel really weird writing it!) in Cochin, Kerala in South India. I had a hankering. And my instincts were right.
I was after the mango ice cream but followed the waiter's recommendation and ordered up their special chocolate cake, too.
Whoo. This cake rivaled my friend Alandra's chocolate cake that I usually enjoy once a year on her birthday. Seriously moist. Not too rich. And the perfect icing. With two scoops of mango ice cream on the side!
Cafe Crafters is located above a shop (Crafters) not too far from the post office. If your ice-cream-dar wasn't on, you might miss it. But if you are on the lookout (and can ignore all the shopkeepers trying to pull you into their stores), this is a great place to take a break from shopping.
Please join WanderFood Wednesday! Here's all you do:
1) Add a food-related post to your site (it can be a recipe, food photo or any other foodie find)
2) Include a link to WanderFood Wednesday so your readers can enjoy other food posts
3) For the best click-through results, add your name OR your blog name and the title of that day's post to the Mr. Linky form below
4) Include a link directly to your food post (not your main blog)
If you're a newbie, see more about WanderFood Wednesday here.
Life's Short, Eat Well!
[mrlinky owner=wanderfood postid=15Feb2011 meme=2888]