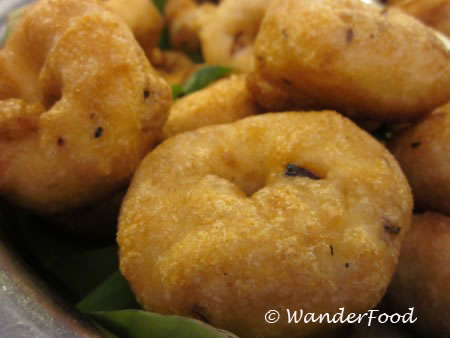 A vada is a delicious doughnut-like snack found in South India and often served with spicy coconut dipping sauce. The primary ingredient in this deep-fried treat is either dal, lentil, gram flour or potato.
Before you get your hopes up, they're not sweet like doughnuts. Instead they are savory, often spiced with black pepper, chillies, mustard seeds, onion and curry. They make a wonderful side dish for breakfast or lunch or can make a tasty late-afternoon snack all on their own. Mmmm mmmm good!
Please join WanderFood Wednesday! Here's all you do:
1) Add a food-related post to your site (it can be a recipe, food photo or any other foodie find)
2) Include a link to WanderFood Wednesday so your readers can enjoy other food posts
3) For the best click-through results, add your name OR your blog name and the title of that day's post to the Mr. Linky form below
4) Include a link directly to your food post (not your main blog)
If you're a newbie, see more about WanderFood Wednesday here.
Life's Short, Eat Well!
[mrlinky owner=wanderfood postid=05Feb2011 meme=2888]