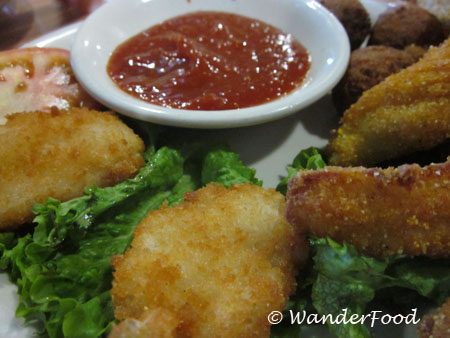 You might already know that I'm a Southern Gal. I was raised in New Jersey but I was born in Atlanta. I have extended family in the South and my mother was a great southern cook. We ate cornbread and corn pones and fried liver (blech).
Although I turn my head to most Southern cooking – there are still some things I must indulge in on occasion – such as fried food. And particularly hush puppies. (WHAT? You don't know what hush puppies are?)
These friend balls of cornmeal batter are likely very bad for you – but they are SO good. Try 'em next time you see them on a menu. They're pictured above in the very upper right – the dark balls.
This was a meal we ordered at The Cotton Gin near Dallas. I'm sure my arteries are still suffering – but sometimes a Southern Gal's just gotta have some home-like cookin'.
Please join WanderFood Wednesday by adding a link to your food-related post. If you're a newbie, see more about WanderFood Wednesday here.
Life's Short, Eat Well!
[mrlinky owner=wanderfood postid=02Feb2011 meme=2888]