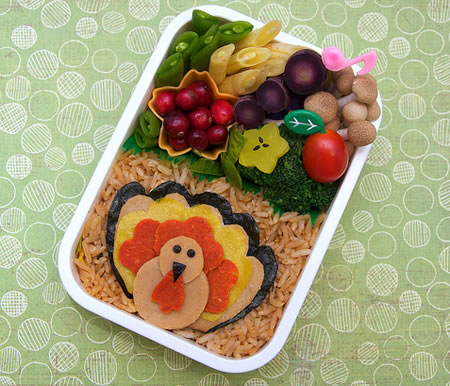 I usually don't post other people's photos on this blog. But I didn't want to resurrect last year's Thanksgiving Day table photo and I did want to add something festive today.
I discovered this image from Bento Zen. It's a Tofurky Bento Box! And the website is something you MUST check out. I'm totally inspired.
Post-Turkey Day, I'll post images from our feast. We're tasked with dessert but I'm thinking I'll have to now bring some Tofurky, too!
Please join WanderFood Wednesday by adding a link to your food-related post. If you're a newbie, see more about WanderFood Wednesday here.
Life's Short, Eat Well!
Like to eat? Subscribe to the WanderFood RSS feed or enter your email address at right to keep up on ethnic eats around the world.
[mrlinky owner=wanderfood postid=23Nov2010 meme=2888]