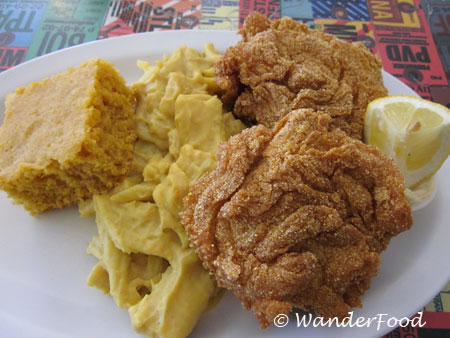 You might think this is fried chicken, but it's not. It's actually battered and fried tofu with a side of vegan mac and cheese and some cornbread.
I discovered Souley Vegan in Oakland, CA when I was visiting the area in September. I gave my Urban Spoon app a shake on my iPhone and, in search of a vegetarian restaurant, came across this little cafe specializing in home cookin'.
All the food is vegan and it's all based on popular southern dishes. As a southern gal myself (didn't know I was born in Atlanta, did you?), I loved all the options but settled on this full plate.
The menu is posted on a chalkboard and includes favorites such as fried okra, red beans and sweet potato pie (which they were sadly out of).
Souley Vegan
301 Broadway
Oakland,Ca 94607
Please join WanderFood Wednesday by adding a link to your food-related post. If you're a newbie, see more about WanderFood Wednesday here.
Life's Short, Eat Well!
Like to eat? Subscribe to the WanderFood RSS feed or enter your email address at right to keep up on ethnic eats around the world.
[mrlinky owner=wanderfood postid=10Nov2010 meme=2888]