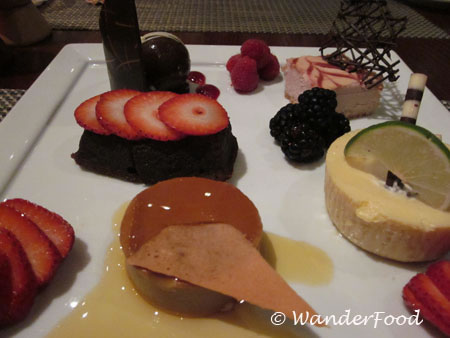 I'd be remiss if I only told you about the dinner I had at Islands Dining Room in Orlando without mentioning the desserts!
This was the sampler tray that we were served. It included: Guava Flan, Strawberry Cheesecake, Key Lime Pie, a Chocolate Truffle and rich Chocolate Cake. I'm still trying to figure out how it is that a person can be full from dinner yet still find room for what is surely the most caloric course of any meal!
Please join WanderFood Wednesday by adding a link to your food-related post. If you're a newbie, see more about WanderFood Wednesday here.
Life's Short, Eat Well!
Like to eat? Subscribe to the WanderFood RSS feed or enter your email address at right to keep up on ethnic eats around the world.
[mrlinky owner=wanderfood postid=07Oct2010 meme=2888]