I feel like Homer Simpson. Mmmmm, donuts!
I'm in Portland this week for a couple of speaking gigs and wouldn't ya know it, but my hotel is located about a 10-minute walk to the famous Voodoo Doughnut shop. Well, Voodoo Doughnut Too, to be specific.
No way can a person come to Portland without stopping in for a sugary treat. These doughnuts are crazy wacky featuring Fruit Loops, bubble gum and, yes, bacon.
I tried a vegan vanilla bar (yup, the ones above are vegan!). I was only going to take a bite and save the rest for later but it was way too good for such a silly idea. I ate it way too quickly and then immediately started thinking how I could justify coming back in the morning for another one.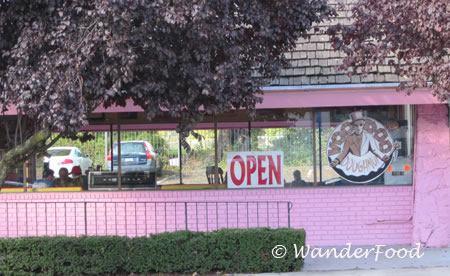 Two locations in Portland and both are open 24 hours!
22 SW 3rd Avenue
1501 N.E. Davis Street
Please join WanderFood Wednesday by adding a link to your food-related post. If you're a newbie, see more about WanderFood Wednesday here.
Life's Short, Eat Well!
Like to eat? Subscribe to the WanderFood RSS feed or enter your email address at right to keep up on ethnic eats around the world.
[mrlinky owner=wanderfood postid=29Sep2010 meme=2888]