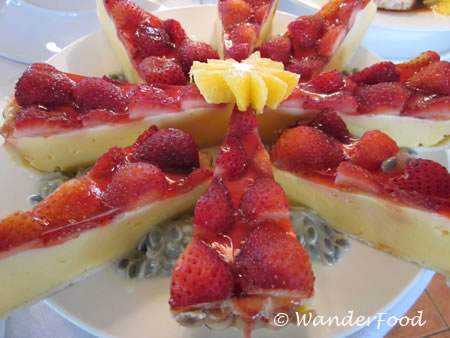 I had been forewarned that the food was nothing to talk about in Papua New Guinea so I was prepared for the worst. I went armed with protein bars, Starbucks VIA and other snacks.
I admit that I wasn't slumming it, but I found the food to be quite lovely. Including this strawberry cheesecake served at the buffet at the Highlander Hotel in Mt. Hagen.
(But don't get me started on the service…)
Please join WanderFood Wednesday by adding a link to your food-related post. If you're a newbie, see more about WanderFood Wednesday here.
Life's Short, Eat Well!
Like to eat? Subscribe to the WanderFood RSS feed or enter your email address at right to keep up on ethnic eats around the world.
[mrlinky owner=wanderfood postid=31Aug2010 meme=2888]