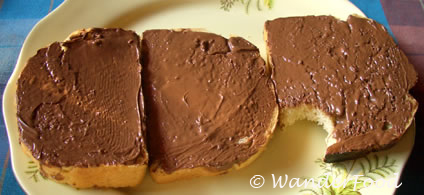 It's unlikely you can guess where I took this photo of bread slathered with Nutella. It was a pretty unlikely place – Hampi, India. (See my story about arriving during a festival in Hampi.)
Actually, Hampi is a hippie hangout in northern Kanataka state. It's the former capital of the Vijayanagara Empire and is surrounded by sacred ruins. It's not a hugely popular destination for most people visiting India, but those who do make this a stopover, love it.
The region is a spiritual draw with the eerie rock formations scattered throughout the area and one part of it has been designated a UNESCO World Heritage Site. Devout Indian pilgrims come from miles around to worship in the river that flows through the area. Foreigners come for these reasons and then stay because of all the cafes, bakeries and cheap accommodations.
One such cafe served up this thick bread with Nutella. The serving size was a bit much for me but yummy all the same…
Please join WanderFood Wednesday by adding a link to your food-related post. If you're a newbie, see more about WanderFood Wednesday here.
Life's Short, Eat Well!
Like to eat? Subscribe to the WanderFood RSS feed or enter your email address at right to keep up on ethnic eats around the world.
[mrlinky owner=wanderfood postid=08Aug2010 meme=2888]