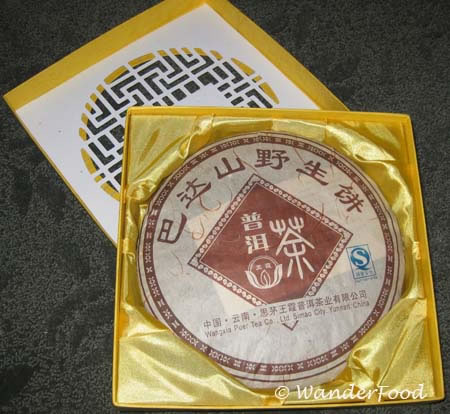 When I found out my fabulous sister-in-law, Lynn, was going to China for business, I asked her to do me one favor and bring back some tea for me. Black tea, because I'm not huge into green tea (though I've grown more accustomed to it since she traveled there). She accepted the task but neither of us knew what she was getting in to – given that much of China drinks their tea green!
Lynn asked her colleagues in China for some help in hunting down some black tea and they were more than accommodating. I think the process took up an entire afternoon and included lots of sitting in a tea shop and lunch. Maybe even dinner, too. But definitely a meal and snacks. I kid. But it was a process.
After sampling many kinds, she chose a beautiful round brick of black tea, bound in light paper wrapping and tucked into a box with cutout designs. I was touched at the thoughtfulness of the gift and couldn't wait to try it.
But I didn't like it. (Yes, I told her.) To me, it smelled and tasted fishy when brewed.
So, I put it in my car and carried it around with me, waiting to find a home for it.
Fast forward to my massage therapist, Laurie. (By the way, if you ever need a massage therapist in Seattle, let me
know, I'll hook you up with Laurie, he's amazing). After a massage, we sat and drank tea. Somehow we got on the topic of Chinese black tea and he mentioned how this prized tea is one of his favorites.
"You mean the kind that comes in a round brick?" I asked.
"Yes, that's the one."
"Hold on, I'll be right back."
I ran to the car and came back with my gift of tea. He was ecstatic. I was happy to find a home for the tea.
"This tea smells like fish to me," I added before leaving his office.
"Oh, that's only if the water's too hot when you brew it."
D'oh. I couldn't ask for the brick back. Could I?
Well, the next time Lynn goes back to China, I'll request some green tea 🙂 . And I may even ask to try the black again, too!
Come back to join the WanderFood Wednesday meme!
Life's Short, Eat Well!
Like to eat? Subscribe to the WanderFood RSS feed or enter your email address at right to keep up on ethnic eats around the world.