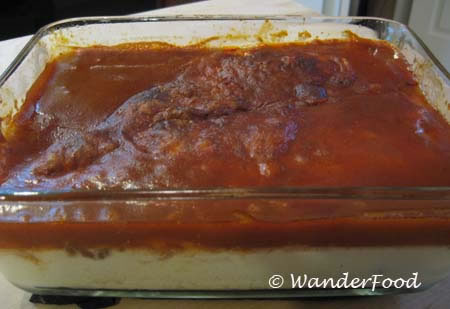 I'm not a super great cook but I do like to eat at home. That leaves me with preparing foods that are relatively easy to make.
In honor of my Mom (who's no longer with us), I decided to make chile rellenos on her birthday earlier this year. This is a dish which she loved and for which her friends loved her for (that and her fantastic cookies!). But I needed to do a stripped-down version since I didn't want to make something too complicated.
I found a wonderful recipe for a souffle which turned out to be not only super easy to make but was so tasty that Jon and I found it hard not to finish the entire dish in one night.
Here are the ingredients:
* 2 (7-ounce) cans whole green chilies, split and seeded
* 4 cups shredded Monterey Jack cheese
* 4 large eggs
* 2 cups milk
* 3 tablespoons all-purpose flour
* 1 teaspoon kosher or coarse salt
* 1/4 teaspoon freshly ground black pepper
* 1 (16-ounce) can enchilada sauce
1. Preheat oven to 325 degrees
2. Grease a 13 x 9 x 2-inch baking pan and line the chilies on the bottom of pan. Sprinkle the cheese evenly over chilies. Set aside.
3. In a medium mixing bowl, beat with electric mixer
the eggs, milk, flour, salt and pepper. Pour over chili/cheese mixture.
4. Bake for 45 minutes; remove from oven and pour enchilada sauce over top and bake for additional 15 minutes.
Recipe says this serves 8 but it served 2 just fine 🙂
And here's what the process looks like: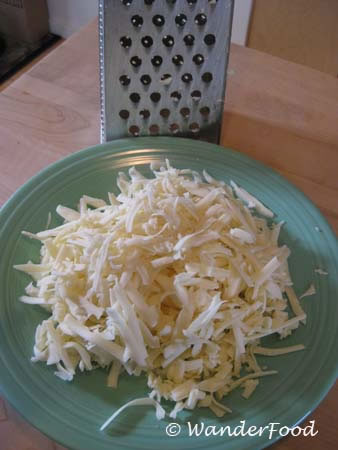 Grated cheese…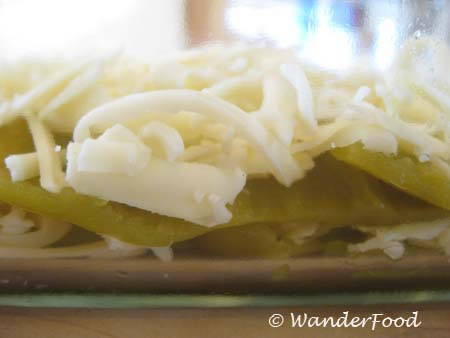 Cheese layered on top of split green chilies…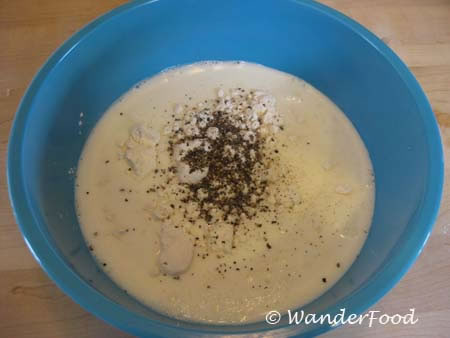 Ingredients ready to be whipped up…
Ready to be placed in oven…
Out of the oven and ready for some enchilada sauce for a bit more baking for the final result…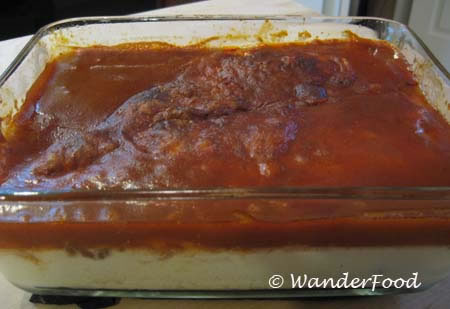 Please join WanderFood Wednesday by adding a link to your food-related post. If you're a newbie, see more about WanderFood Wednesday here.
Life's Short, Eat Well!
Like to eat? Subscribe to the WanderFood RSS feed or enter your email address at right to keep up on ethnic eats around the world.
[mrlinky owner=wanderfood postid=04Aug2010 meme=2888]