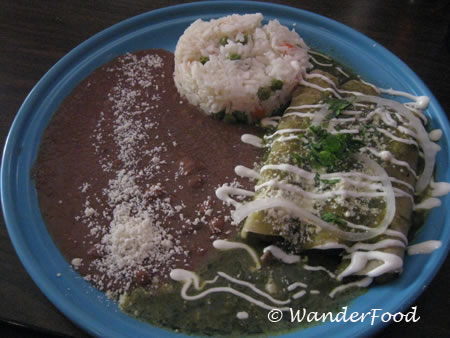 El Quetzal in Seattle isn't your typical Mexican fare found in the U.S. It's your typical Mexican fare found in Mexico. Sadly, I can't tell you the number of times that I've passed by this little hole in the wall on Beacon Hill and didn't even notice it!
It wasn't until a friend mentioned it a few weeks ago that I looked it up online and discovered it was on a route to a friend's house that I regularly travel.
Jon and I met a friend there who had just returned from a 2-year journey through Central and South America (ON HIS BIKE!). Looking at the menu, we asked Dave what he might recommend. "I don't know what any of this is." It's because the food changes from region to region and this was unlike anything Dave had experienced.
I had the Enchilada Verdes (above) that were made special for me with beans and some cheese since all the menu items for this had meat. I ordered the full plate which included refried beans and rice. Amazingly, I ate the entire plateful of food.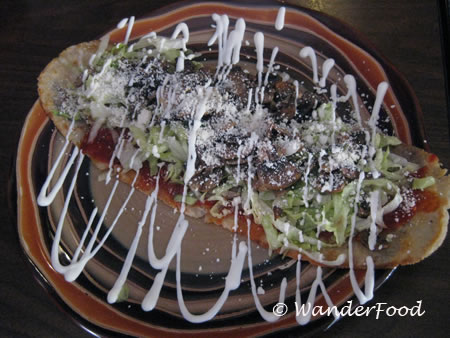 Jon had the Vero Loca Huarache (sandal, in Spanish). This is a corn dough and his was topped with sauteed mushrooms, herbs and onions and then sprinkled with refried beans, cheese, lettuce and sour cream. (Dave had the meat version.)
And to wash it all down? What ELSE would I order but a watermelon juice! This was HUGE, lightly sweetened and with chunks of watermelon in it. It was more watery than I'm used to (in Southeast Asia, these are served almost smoothie-like) but I sucked down every last drop.
For the amount of food we received, dinner was super reasonably priced with entrees around $10-13/each.
Be forewarned, however, that the food is spicy. I've learned to enjoy/tolerate heat but this did make me sweat just a tad.
El Quetzal
3209 Beacon Ave South
Seattle Washington 98144
(206) 329-2970
Come back to join the WanderFood Wednesday meme!
Life's Short, Eat Well!
Like to eat? Subscribe to the WanderFood RSS feed or enter your email address at right to keep up on ethnic eats around the world.