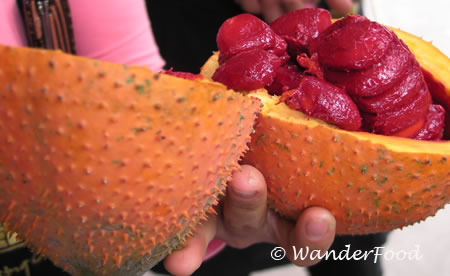 Don't let this weird looking fruit throw you off. The gac fruit, found in Southeast Asia, is admittedly pretty ugly but it IS high in lycopene, beta carotene, vitamin c and Omega 6 and 9 fatty acids. Actually about 70 times the lycopene you'd find in a tomato, 20 times the amount of beta carotene than carrots and 40 times the vitamin c than in oranges. Kind of a superfruit…
I don't think I'd ever come across one of these until earlier this year when our group received a tour of the local market before our cooking class in Hanoi. Our guide stopped by a roadside vendor and took a moment to slice one in half.
These have a short season, usually early in the year, around Tet, and are a delicacy for families around this time.
Sadly, I didn't get to try this, but it should be noted that the only edible portion is the slimy part surrounding the large seeds inside. The seeds can then be roasted, almost like a chestnut.
Life's Short, Eat Well!
Like to eat? Subscribe to the WanderFood RSS feed or enter your email address at right to keep up on ethnic eats around the world.