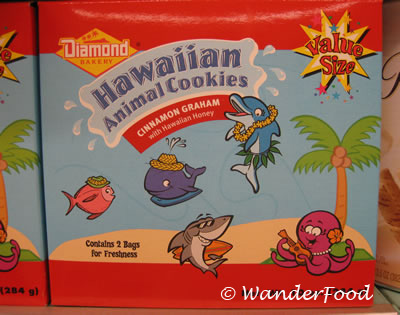 While on Kauai a few (long) months ago, Jon and I had some time to kill before we could check into our hotel. We popped over to the air-conditioned grocery store across the street and I spent some time poking around the aisles for new goodies while someone else (ahem) got stuck at the magazine rack.
There were a lot of interesting items that were influenced from Asia, but I loved these cookies best! Where else are you going to find animal (crackers) cookies shaped like your favorite seafood? And, these feature Hawaiian honey!
Come back to join the WanderFood Wednesday meme!
Life's Short, Eat Well!
Like to eat? Subscribe to the WanderFood RSS feed or enter your email address at right to keep up on ethnic eats around the world.