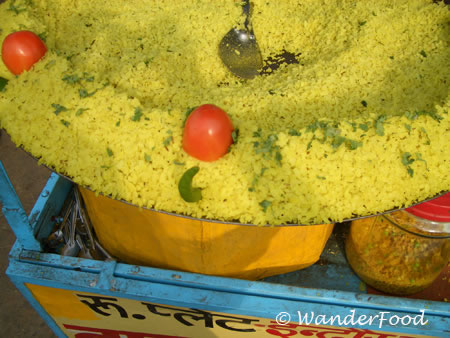 If you could look past the flies and other insects crawling around, this sure was a lovely cart of rice that I discovered in Agra, India. (Though I definitely wouldn't recommend eating from this street vendor.)
This was likely a curried rice, though I can't say for sure. There were lots of other vendors around with equally beautiful presentations (and an equal number of bugs) of these simple dishes. Be sure to check them out on the busy streets near the Taj Mahal.
Please join WanderFood Wednesday by adding a link to your food-related post. If you're a newbie, see more about WanderFood Wednesday here.
Life's Short, Eat Well!
Like to eat? Subscribe to the WanderFood RSS feed or enter your email address at right to keep up on ethnic eats around the world.
[mrlinky owner=wanderfood postid=20Jul2010 meme=2888]