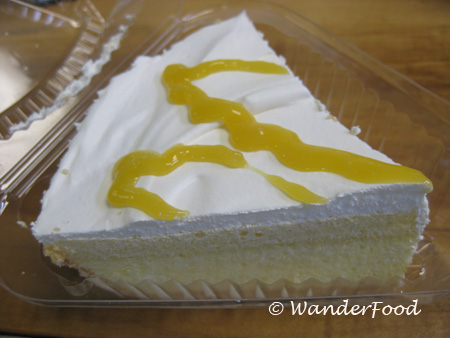 It's with great pain that I talk about lilikoi pies today. Painful? Yes! I can almost taste the velvety foam chiffon that makes up this passionfruit pie from Kauai. Melt in your mouth doesn't do it justice. It just dissolves leaving a slightly sour and slightly sweet trail behind. I can almost taste it but it's SO far away. That's why this is so painful.
The above lilikoi pie is from Aunt Lilkoi's shop in Waimea. This little storefront serves up all-things-passionfruit including mustards, dressings and teas. But who could resist a slice o' pie? Not I.
But one slice is never enough, is it?
This second slice is from Hamura's Saimin Stand in Lihue. Notice the little air pockets. This one was lighter in texture than Aunt Lilkoi's and I think the air bubbles are representative of that. I might be biased as my hosts heavily favored Hamura's but I have to admit that the unbearable lightness of this one was spectacular.
Word is that Hawaiians who live on other islands will stop by Hamura's on their way to the airport to pick up a pie before hopping on the short flight home. I can totally see why. If I lived any closer than Seattle, I might make a special trip myself.
Please join WanderFood Wednesday by adding a link to your food-related post. If you're a newbie, see more about WanderFood Wednesday here.
Life's Short, Eat Well!
Like to eat? Subscribe to the WanderFood RSS feed or enter your email address at right to keep up on ethnic eats around the world.
[mrlinky owner=wanderfood postid=02Jun2010 meme=2888]