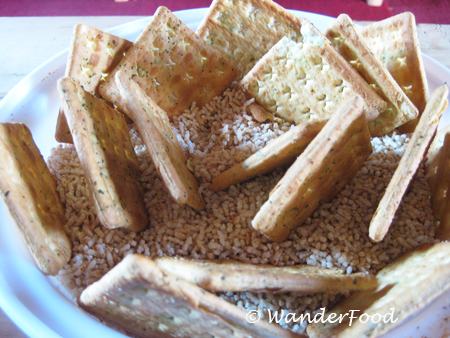 You don't see this every day, do you?
This was a magnificent treat handed to my group while we were visiting a monastery in Bhutan. It came shortly before a hike, so it was a welcome energizer before hitting the trail.
What IS it, you ask? Why it's crackers sitting in a bowl of toasted rice. The toasted rice is often served as a light snack with tea and I just loved that they nested the crackers in there for easy pickings.
Please join WanderFood Wednesday by adding a link to your food-related post. If you're a newbie, see more about WanderFood Wednesday here.
Life's Short, Eat Well!
Like to eat? Subscribe to the WanderFood RSS feed or enter your email address at right to keep up on ethnic eats around the world.
[mrlinky owner=wanderfood postid=12May2010 meme=2888]