I learned from a friend many years ago how much fun grocery stores can be for providing insight into a foreign culture. I now keep my eye open for these anytime I travel, whether domestically or internationally.
In the relatively small town of Siem Reap, I stayed in a hotel that was just a couple of blocks from the local grocery store. It was located right next to a Swenson's (!) ice cream shop, if you can believe it.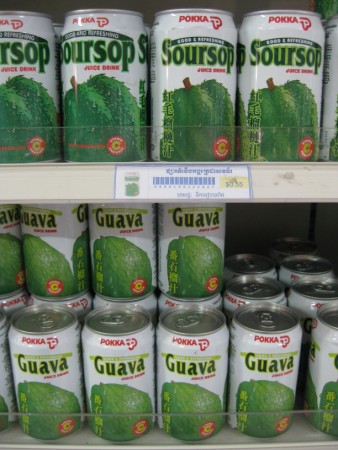 As I browsed around, I noticed a couple of unique drinks including the Kickapoo Joy Juice and both Soursop and Guava juice in cans. Sadly, I didn't try the Kickapoo Joy Juice, I was too enamored with the FRESH banana shakes and watermelon juices that I consumed at least once a day!
Please join WanderFood Wednesday by adding a link to your food-related post. If you're a newbie, see more about WanderFood Wednesday here.
Life's Short, Eat Well!
Like to eat? Subscribe to the WanderFood RSS feed or enter your email address at right to keep up on ethnic eats around the world.
[mrlinky owner=wanderfood postid=30Mar2010 meme=2888]