One of the most special lunches we've had so far on this journey through Vietnam was at the home of a tribal family in the north. This was a Muong family located on the way to Mai Chau. The above is a sampling of the delectible foods we were treated to including stir-fried morning glory (not the same as those at home), eggs and chicken.
For the vegetarians in the crowd, we were treated to potatoes and fried tofu.
We exchanged pleasantries with the woman of the house – the kind of smiles and nods that take place when you don't have a commong language. Later, however, when trying to bargain for some items she had for sale, we discovered she knew A LOT more English than she let on!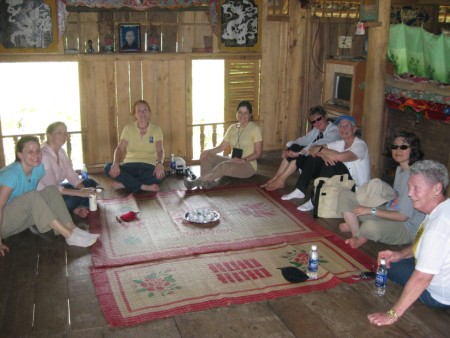 This is the group enjoying tea at the Muong home. With no table or chairs in sight, we simply plopped down next to the matt as we sat in the 95+ heat.
Please join WanderFood Wednesday by adding a link to your food-related post. If you're a newbie, see more about WanderFood Wednesday here.
Life's Short, Eat Well!
Like to eat? Subscribe to the WanderFood RSS feed or enter your email address at right to keep up on ethnic eats around the world.
[mrlinky owner=wanderfood postid=10Mar2010 meme=2888]