Guest post by Shelley Seale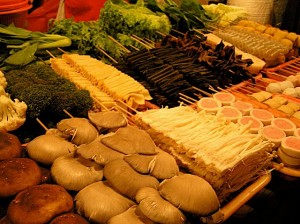 Wandering and tasting from the limitless food stalls of Shanghai is not only a delicious treat for the taste buds, but an adventure for all the senses. Exploring street food in a new place is one of the best ways possible to truly discover the soul of the place – far from being just about eating, you are immersed in the daily lives of the locals and their neighborhoods, rituals and food preparation that is a true art form, sometimes taught down generations.
In Shanghai, the Old Town is a can't-miss spot. Over a century old, the area is the only place of traditional architecture in the city; the City God Temple at its center is a small square where people light incense at large firepits and pray to the deity for good fortune and peace. Surrounding the temple are lanes filled with street vendors and tiny restaurants where you can see the food made right in front of you to order. Pastries and stuffed buns are popular, but the specialty is the Nanxiang steamed bun. This is a large dumpling filled with soup; the trick to eating this delicious local favorite is to bite off the top of the bun, then suck the soup out first before devouring what's left.
Near the People's Square, Wujiang Road is an amazing street filled with snack stalls featuring original Shanghai dishes and frequented by locals – it is not a tourist spot at all, and you will likely not see another non-Chinese face. Here you can find dumplings and sweets, scallops pan-fried on the shell and swimming in garlic and ginger, or seared tofu – the rank smell will lead you to the tofu.
Don't miss stall #26, serving authentic Sichuan hot pots, one of Shanghai's most delectable dishes. Step past the giant bubbling vat of soup broth to enter the small building, where you pick up a basket and select your soup makings from fresh ingredients such as bok choy, zucchini, mushrooms, cabbage, pork and beef heart. Then you bring your basket back outside and hand it to the guys who cook it for you in the boiling hot pot, adding spices and Sichuan pepper to your taste. The resulting soup is an amazing taste explosion that dances on your tongue as if perfectly choreographed, still allowing you to detect each individual ingredient.
Come back to join the WanderFood Wednesday meme!
Life's Short, Eat Well!
Like to eat? Subscribe to the WanderFood RSS feed or enter your email address at right to keep up on ethnic eats around the world.